HTML5
Hypertext Markup Language (HTML) is the standard markup language for documents designed to be displayed in a web browser. It can be assisted by technologies such as Cascading Style Sheets (CSS) and scripting languages such as JavaScript.
HTML5 is the latest version of the HTML markup language involving three different codes (HTML, CSS and JavaScript) that is enabling developers to create value added apps and websites with ever craved necessities like better functionality, greater speed, enhanced performance, rich UI elements and the smooth experience similar to desktop apps.
HTML5 support different multiple advance feature, which affects the behavior and content of web pages.
HTML 5 includes detailed processing models to encourage more interoperable implementations; it extends, improves and rationalizes the markup available for documents, and introduces markup and application programming interfaces (APIs) for complex web applications.
Feature of HTML5
HTML5 support Web Workers. Using this feature We create separate background threads for processing and it does not effect the performance of a web page.
Define multiple image resources for responsive design.
Additional tags for supporting multimedia capabilities such as playing video, animations, drawings, music files without add-ons or browser plug-ins.
As HTML5 based apps are web apps, it frees the user of all the hassles of having to install the same app across multiple device platforms and app stores.
HTML5 support video feature.The video element allows you to easily stream video from a website.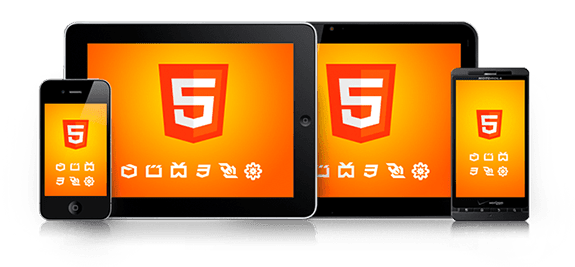 HTML5 Responsive Web Design
HTML5 responsive web designs are wildly used in the current smart world as it loads faster and adjusts in all screen sizes automatically.
HTML5 Design Services
We offer attractive HTML5 design services. Our HTML experts work with w3c standards and verify W3C validation when action HTML5 design services to the clients.
PSD to HTML5 Conversion
We provide PSD to HTML5 conversion service in our company and ensure client for error-free coding with the latest standard.
Our HTML5 Development Services at a Glance
We offer a full suite of solutions based on HTML5 that has been designed to cater to a wide range of industry segments. Over the years our dedicated HTML5 developers have catered to the diverse needs of the clients by developing feature-packed, engaging and scalable HTML5 apps that offer an edge.
HTML5 Web Development Services
Hire dedicated HTML5 developers to build dynamic web solutions that are high on functionality and offer an unmatched experience to the users.
HTML5 Custom Application Development
Our HTML5 developers are experienced in building scalable, feature-packed and secure web applications tailored to your business needs.
Maintenance and Support Services
We not only offer HTML5 development solutions but also specialize in HTML5 maintenance and support services to offer clients a glitch-free experience.
Managing Web Tool Integration
We offer web tool integration solutions and ensure that the HTML5 solutions we develop integrate seamlessly with web tools for flawless user experience.
Our HTML5 Web Development Expertise
Our HTML5 developers are proficient in CSS3 and JavaScript and have years of expertise in developing secure, feature-rich and highly scalable cross-platform solutions that run seamlessly across platforms.
Retail and eCommerce
Hire HTML5 developers to develop high-performing, secure and scalable retail and eCommerce apps that offer great shopping experience.
Travel and Tourism
Build interactive HTML5 apps with advanced functionalities and features to cater to the needs of clients in the travel and tourism industry.
Banking and Financial Sector
Attain operational efficiency by developing enterprise-grade banking and finance apps with advanced functionality and cutting-edge features.
Education and eLearning
Partner with us to develop next-generation education and eLearning mobile solutions that offer a delightful experience to users across the globe.
Media and Entertainment
Develop dynamic media and entertainment apps that are loaded with interactive features and offer an immersive experience to end-users.
Logistics & Transportation
Get highly intuitive and feature-packed logistics and transportation web solutions that are high on performance and offer the desired competitive edge.
Food & Beverage
We are backed by a team of skilled HTML5 developers who are adept at delivering innovative web solutions to cater to the needs of the food and beverages industry.
Education and eLearning
Partner with us to develop next-generation education and eLearning mobile solutions that offer a delightful experience to users across the globe.