Dedicated Development Teams
dedicated development team and save yourself from recruitment hassles, training & infrastructure cost, and investment for upgrading to new technologies. We use custom teams to help agencies and businesses scale their software design & development capabilities.
We are backed by 500+ full time professionals having over 5 years of average experience in executing simple as well as complex enterprise grade projects.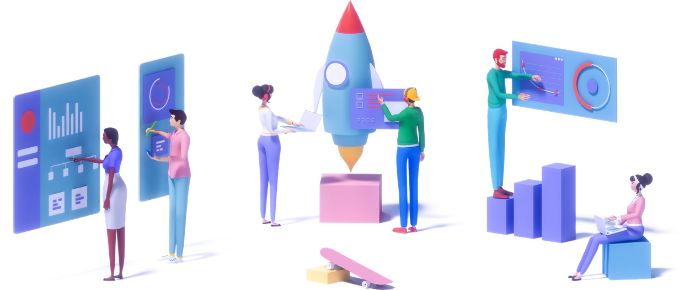 Types of Offshore Dedicated Team Setup
PIXOBOTS is a hub of skilled and experienced web & mobile app development teams. Our dedicated team of experts have proficiency in providing full-cycle software solutions for startups as well as enterprises.
On-Demand Dedicated Team
his dedicated development team setup satisfies any ad-hoc demand in extra skilled resources and domain-specific experts. We empower firms with our experienced in-house teams and well-established development processes, methodologies & tools.
Full-Service Development Teams
In this team setup, we provide full-time dedicated software development teams based on ready-to-use IT infrastructure to handle end-to-end delivery of your IT project. Here, you are granted the flexibility to shift priorities and you can also initiate change requests.
Maintenance Teams
With this team setup, we provide multi-level end user support and evolutionary functionality enhancement. We set up dedicated teams adept at guiding your proprietary software product through a series of releases.
Dedicated Team Setup & Operation
By establishing a dedicated software development team center with Pixobots, you get instant access to optimum technology skillset, ready-to-use IT infrastructure and established web & mobile app development processes.
Arrangement
In depth analysis of project requirements
Defining scope of project
Candidates screening according to project
Team selection suitable for project
Launch
Team setup as per domain expertise
Starting of project
Environment, tools, infrastructure setup
Process & methodology definition
Communication processes establishment
Operation
Maximum productivity achieved & maintained
peration review & adjustment
Team size adjustment (scale up/down)
Knowledge accumulation & sharing
Whom You Can Hire?
We only offer a dedicated team model for senior developers having years of relevant experience.
Business Analysis Team
Dedicated business analysts, Strategic planners, Process designers
Management Team
Dedicated business analysts, Strategic planners, Process designers
Software Developers
Web Apps, Mobile Apps, CMS, Ecommerce, JavaScript, Front-end
QA Experts
Dedicated business analysts, Strategic planners, Process designers
Digital Marketing Experts
Dedicated project managers
Your present staff is not equipped with the skills to work on the new project.
You feel the company budget is going overboard.
You feel that it would be good for the company to downsize.
You realize there is an emergency situation to counter.
You want additional resources with special skills.
You want to avoid unnecessary delays on a project.
16+ years in business has provided us with the expertise to understand your project's needs. We also train our developers in the latest tools and technology.
Being a competitive company, we are naturally cost-effective; but not at the sacrifice of quality or speed..
Don't let the downsizing affect your business profitability! Get unparalleled project scalability and resource flexibility with Pixobots dedicated development team..
PIXOBOTS dedicated teams are always ready to cater to emergencies like finishing project in record time, urgent need of skilled developers, etc.
Save your money & time in running recruitment process and from bearing many associate cost like promotions & training. Work directly with our developers to achieve the highest level of productivity.
Get the assurance of timely delivery with a completely agile project development environment. You can keep a check on the progress in real-time.
Benefits of choosing Dedicated Team for your Project
Hiring dedicated software developers and programmers are in great demand these days as it provides a wide gamut of benefits. Some of the advantages are.
Save your money & time running recruitment process.
Skilled professionals working just for you.
Save spending on infrastructure development.
Unparalleled project scalability and resource flexibility.
Save yourself from following local and national laws while hiring.
No need to bear long-term associated costs at all.
Save yourself from bearing cost like promotions, training, etc.
No hardware or software related cost.
Frequently Asked Questions
Here are some questions that are frequently asked by our clients. If you need more information or have any other query, feel free to contact us.
Why shall we hire the dedicated development team from Pixobots?
Hire a dedicated development team from PIXOBOTS and scale up your software development lifecycle as our company hire India's top talent as the offshore development team.
The team provides robust, secure, and scalable software product development solution as per your business requirement. And aside from all this, we train our team on the latest technologies, tools and frameworks.
What is the overall experience of the dedicated development team at Pixobots?
We offer a dedicated team model for senior developers and coders who have more than 5 years of relevant experience. The team is full of zest and delivers quality deliverables on time at a cost-effective price.
Can you share the list of your clients with whom you have worked earlier?
Yes, of course, this will help you in analyzing our work and take the right decision accordingly. In our 16+ years of experience, we have served clients like Volkswagen, Adobe, HPE, Puma, John Deers and many more.
What is the process of hiring a dedicated development team from Pixobots?
The process of hiring a dedicated developed team from us is straightforward. You share the detail of the project, and we will schedule the interview for further procedure.
Do I get a dedicated Project Manager for my project to supervise?
Once the resources are on-board, each client gets a dedicated Project Management for the smooth functioning of work and communication. The project coordinator acts as a single point of contact for regular communication and query resolution.
If I feel dissatisfied with any of your resources, then?
Whenever you feel any kind of dissatisfaction with our work, come to us we will be happy to redress you and ensure free and timely replacement of the resource.
In how much time onboarding process gets started?
It hardly takes 1-6 working days for the resources to come on board and start working on the project.
How is the reporting process of the project work done? Do I get access to project management?
Software and Timesheet reports- PIXOBOTS ensures that each client gets timesheet reports along with complete access of the project management tool at a frequency decided by the client.
I am new to the hiring process and remote work? How will I be going to manage and monitor them?
Several tools give us the ability to create a virtual office. They are even allowing for real-time face-to-face communication! There are several tools available nowadays to mimic local office presence; many of us use ourselves on a day to day basis. You might even find that utilizing these tools works even better than what you're doing right now.
Do you provide consulting before signing the agreement of service?
Contact our experts and they will assist you in turning your specific business needs and requirements into technical specifications for your software.
Is there any hidden cost?
No, we believe in full transparency. We discuss with you your website requirements and then price accordingly and once you have placed an order for your website design with us. We work hard so that the outlined price quote is strictly adhered to.
What is the lead time needed to ramp up the resources?
The dedicated team for your project will be set up quickly to initiate work within a few hours of project acquisition.
Do you offer flexibility in choosing the resources based on the requirements?
Yes, definitely. Our dedicated developers' models allow you to hire resources of your choice, onboard them, and scale-up and down based on the requirements.
What if I want some more resources in the middle of the project?
Well, in that case, with prior notice, you can easily trim and expand your offshore software development team.
How do I feel sure that the project will execute seamlessly?
Undoubtedly, for proper assurance of your work, we offer real-time project management tools to monitor the progress of the project.
Can I dissolve my offshore dedicated development team contract anytime?
Yes. If you are not satisfied with our services then talk to us. After discussion, still not satisfied, then you can call-off the contract with mutual terms and conditions.
Is there any non-disclosure agreement?
Yes. We are strictly committed to protecting our customers' confidentiality. We are completely open to signing the contract.
Can you assign an exclusive software development team for us?
If you are expecting a smooth workflow for the long term using consistent operating and programming language systems, then you can go for even an entire project team to work on your project alone.
After setting up a software development team, what is the procedure that is followed?
We ensure that we offer the finest support to companies to set up a development center. Our procedure is transparent and comprised of skilled and expert developers. Following is the procedure of working-
- Design-led iterative development
- CI/CD Performance Optimization
- Testing
- Improvisation based on the market and feedback
Does the dedicated development team work in clients' timezone?
We offer development team services to clients across the world and we understand the problem of communication gaps, delayed delivery or time differences. We ensure that our team works according to your timezones and in working hours.
Will I have full control over software developers I hire from you?
Yes, you will have full control over software developers, they will dedicatedly work as your employees. You can connect with them over chat, calls, Skype, and emails for daily and weekly reporting.
How do you quote for smaller assignments?
We usually prefer to take projects of a minimum of one month. If the project is small in size, then you can hire our team for a minimum of 15 days. The price may be relatively higher for a smaller size and short time project.
Can I come to your office for a meeting?
Of course. We highly encourage our clients to visit our offices for a team introduction or meeting as we believe it's a great way to built trust and establishes.