Healthcare App Development
Creating smart healthcare applications catering to the needs of doctors, patients, medical ISVs and health enthusiasts. We assure you that your healthcare solutions will be Compliant, Comprehensive, Connected & Confidential.
We have 500+ full-time healthcare software development team having 5+ years of average experience in creating custom enterprise-grade healthcare applications.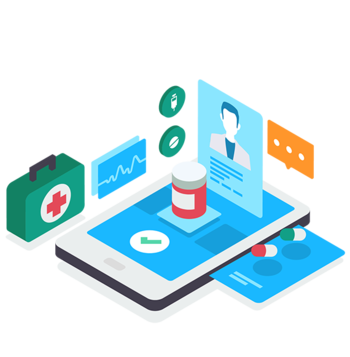 Our Healthcare Expertise & Solutions
Building a secure and user-friendly healthcare infrastructure for an interconnected healthcare environment, from the back office to the physician's office.
EMR and EHR Solutions
Providing complete EMR & EHR solutions with advanced features like medical scheduling, wearables, charting, e-prescribing, telemedicine options, patient portals, mHealth applications handwriting & voice recognition and many more.
Streamlined interoperability
Advanced decision support
Smarter care coordination
Enhanced communication
Interactive patient portals
Population health management
mHealth Software Solutions
Give healthcare services in the palm of your customers. It gives various benefits to customers like independence for patients, technological innovation, better patient involvement, & enhanced decision-making.
Mobility for Personnel
Advanced decision support
Smarter care coordination
Enhanced communication
Interactive patient portals
Population health management
Telemedicine Software Solutions
We are reinventing healthcare for the connected age with our telemedicine software. Our software helps in delivering the right care, at the right time. Now improve care via streamlined communication and better patient engagement.
Real-Time Interactive Solutions
Store-and-Forward Solutions
Remote Patient Monitoring Solutions
Fast Media Exchange Solutions
Clinical & health management
We provide healthcare software development solution that can help maintain patient information, streamline clinical workflows, remotely track the progress of paatients and deliver personalized medical care.
Healthcare Business Intelligence
Leverage custom BI to enable better health outcomes and enhance patient satisfaction. Our business intelligence software helps to enhance the patient care journey, drive clinical decision-making, and drive down operational costs.
Precise Healthcare analytics
We create solutions that employ artificial intelligence, OLAP analysis and data mining algorithms to analyze a vast amount of medical data, and predict outcomes for individual patients and support clinical decision-making.
Healthcare App Development Services
We provide complete web & mobile app development solutions to the healthcare industry. Our IT solutions effectively enhance operational efficiencies and improve internal processes. Here are some problems of the healthcare industry that we resolve with our services
Enterprise Healthcare Solutions
Get full-cycle healthcare web and mobile application (designing + development + integration + QA + deployment + maintenance & support) completely customized for your specific healthcare project needs.
Healthcare Software Consulting
Do you have any doubt how healthcare software can transform your business or which technology suitable for your specific healthcare business? Let our expert clear your doubts with consulting.
Dedicated Development Team
If you want to hire a dedicated development team for healthcare application, PIXOBOTS can be your reliable partner.We have helped hundreds of agencies in finding the right team for their healthcare projects.
Frequently Asked Questions
Here are some questions that are frequently asked by our clients. If you need more information or have any any other question, feel free to contact us.
Do you sign NDA?
Yes! When you hire healthcare web app developers from us, we sign a strict NDA (Non-Disclosure Agreement) and all other legal documents and forms to protect your data and security.
Since how many years you are into healthcare web app development?
We are into developing healthcare web apps for 15+ years and have successfully delivered various projects to our global clients.
Can I see my healthcare web app while it is in progress?
Yeah! In fact, we encourage it. We build your healthcare web app on our development server and give you a password and username so that you can log in and monitor the progress of your healthcare web app.
Once my project is completed, do you provide any after-sales services? If yes, then what are these?
We provide our clients with extended software protection plans. We also fully support any website we design and are always available if you encounter any problems or require new enhancements in your healthcare web app. PIXOBOTS offers complete website maintenance & support.
Is it necessary to have a face to face meeting in order to begin my project?
In the majority of cases, a face-to-face meeting is not necessary and most of our web apps are generally completed with contact via telephone, email, or Skype only. We place suggested HIPAA compliant web app designs online via our secure testing server for you to view the work in progress.
Are there any hidden charges that you put on your customers?
No. We discuss with you your healthcare web app requirements and then price accordingly. Moreover, once you have placed an order for your website design with us, we work hard so that the outlined price quote is strictly adhered to.
Do you guarantee the security and confidentiality of our project?
Yes, we guarantee it as we sign a strict NDA to protect your data. Hence, we ensure complete security and privacy of your project.
In how much time can you provide a HIPAA compliant healthcare web app?
The time to create a fully functional website is based on several factors. Customized web designing work can take around 1-4 weeks depending on the complexity of the project and the number of revisions required.
After that, the development phase requires an additional time of 1-6 weeks depending on the number of pages and functionality required. We follow an agile development process that helps us to deliver your project in the minimum possible time.
Which price model do you follow: dedicated resource or fixed time/ price?
Sir, we offer both kinds of price models for our valuable clients and customers like you. Select the dedicated resource model if you want the total control of the healthcare web app development process and don't want to get into the tricky task of hiring employees.
Also, you can select the fixed time/price model if your requirements are unlikely to change and project duration can be determined.
What is HIPAA compliant?
The Health Insurance Portability and Accountability Act (HIPAA) sets the standard for sensitive patient data protection. Companies that deal with protected health information must have physical. Network, and process security measures in place and follow them to ensure HIPAA compliance.