WordPress
WordPress is web software which can be used to create beautiful websites or blogs. WordPress development is an open source technology with plenty of plug-ins and themes which let you create the most innovative blogs or websites as per your liking. It enables you to craft your blog as you desire and also manage it easily.
WordPress is one of the easiest and most powerful content management system that comes with numerous features to make your experience pleasing and appealing. It is the most flexible content management system that gives stiff competition to other CMS available out there. WordPress is known for its wide range of themes and its ability to integrate with any existing technologies.
WordPress technology to provide you most secure and safe CMS system for your business.
Why go for WordPress?
WordPress is Flexible and Adaptable for Changing Needs in website.
WordPress offers a variety of responsive theme designs, and users can also make a static site responsive with plugins and adjustments to theme files.
WordPress is free and open source, it's supported by WordPress-loving communities around the world.
WordPress is a content management system software, it has multiple features that make publishing content easy.
Sharing is easier than ever in the huge WordPress community.
WordPress is simple and easy to use create application.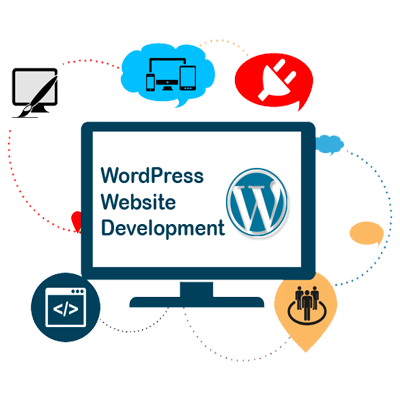 WordPress Services
We offers all possible WordPress services ranging from custom WordPress theme development, plugin customization, WordPress speed optimization.
WordPress Development
With our PHP ECommerce solution, you can get feature-packed and high-performance ECommerce website with Integrate multiple shopping experiences.
WordPress SEO
We work for bringing up the site to its higher ranking through on-page & off-page SEO. We care for relevant keywords, content, competitor search for the websites.
WordPress Support
We provide assistance for all your WordPress queries, issues, & hassles and offer instant maintenance service for your website.
WordPress Design
We offer WordPress full service that includes a simple blog, brochure, static website to an advanced e-Commerce solution.
WordPress Bug Fixing
For all the bugs and issues relating to your WordPress website, our team of experts are here to help you with their experience to get you out from your trap.
WordPress Responsive Web Design
As a leading WordPress Development Company, we provide an opportunity to woo your mobile addict vast audience through seamless experiences all devices and platforms to bring high traffic with an even higher conversion rate.
WordPress E-commerce Solutions
As an acclaimed Custom WordPress Development Company, our expertise also lies in WooCommerce and customized e-commerce development.
WordPress Migration
WordPress Migration is always challenging, and we make it hurdle-free yet secure. The process is quick with us infusing our expertise and experiences in the migration from other platforms.
Verticals Of WordPress CMS Development
Our clients map across various industry verticals inclusive of automotive, e-commerce, banking, real-estate, entertainment, finance, software product development and healthcare.
Retail & ECommerce
PIXOBOTS builds powerful e-commerce solutions including e-carts & marketplaces, auctions & reverse auctions, social commerce solutions, etc.
E-Learning Solutions
Our e-learning solutions include online training web apps, learning management systems, corporate learning portals, online courses, to name a few.
Social Networks Solutions
The web app with social connectivity developed by our WordPress developers include social networks & communities, collaboration solutions, blogs & Wikis, etc.
Travel & Tourism Solutions
Our agile software development solutions improve your travel business' RoI and lessen operational cost and various business operations.
Logistics & Transport Solutions
Our result driven software development services for logistics & transportations maximize RoI and effectively manage daily workflows.
Media & Entertainment
Our WordPress developers provide online promotion solutions, social networking development tools, media content distribution channels with the use of the latest trends.
Healthcare App Solutions
Our WordPress developers are specialized in developing advanced e-healthcare solutions with end-to-end web & mobile healthcare application development services.
Banking & Finance Solutions
Our WordPress developers provide custom banking & financial software development services for constant cost leadership, increased operational efficiency and agility.
Automotive Solutions
Our innovative web and mobile applications help the automotive sector to be more cost efficient & sustainable and get maximum RoI.
Ready To Get Started?
Stay ahead of competition with our professional, tailor-made & enterprise-grade WordPress website development services. Our WordPress website development company combines development expertise with modern tools to address critical needs of global clients across WordPress development industries.
Frequently Asked Questions
Here are some questions related to WordPress CMS development that are frequently asked by our clients. If you need more information or have any any other question related to WordPress web development, feel free to contact us.
Why should I trust PIXOBOTS for WordPress development service?
Till now, our company has delivered 4500+ CMS development projects, including the one developed on major platform WordPress. We ensure 100 percent satisfaction to our clients in our first attempt which will ultimately save your time and money.
What are the overall years of experience your WordPress Development team have?
We have a team of WordPress developers who have 5+ years of experience in WordPress web developments service and build website catering to different industry verticals including banking, automotive, media and entertainment and many others.
Can you name some of your elite clients?
Some of our esteemed clients with whom we have worked earlier are HPE, John Deers, Volkswagen and more.
How long does it take to create a WordPress content management system?
The time to create a fully functional CMS is based on many factors. Customized UI/UX designing work can take anywhere from 1 to 4 weeks, depending on the complexity of the project and the number of revisions you need. After that development phase needs an additional 1 to 6 weeks, depending on the number of pages and functionality required. We follow agile hybrid mobile app development process that help us to deliver your project in minimum possible time.
Is WordPress an open source content management system?
Yes, WordPress is an opensource content management system.
Are your CMS website responsive?
Yes. Every CMS web apps we have built since our inception has been mobile-friendly. With responsive design methods, we ensure that the web apps works well on a wide variety of screen sizes, from tablets and smartphones to small & large desktop monitors.
Will I be having a full time dedicated project manager?
Yes, we will provide you a full time dedicated project manager, who will work for your project dedicatedly. Our project manager updates you about your ongoing project on regular basis. You can provide him your valuable feedback.
Can I select my preferred CMS developer?
Yes, you can select the CMS developers as per your preferences and requirements. We provide you resumes of selected programmers. Then, you can select few of them which will work dedicatedly on your project.
Can I see my content management system while it's in progress?
Absolutely! In fact, we encourage it. We build your web app on our development server, and provide you with a password and username so that you can log in and monitor the progress of your website.
Will I need to have face-to-face meeting to begin the project?
In the majority of cases face-to-face meeting is not necessary and most of our web apps are generally completed with contact via telephone, email, or Skype only. We place suggested website designs online via, our secure testing server for you to view the work in progress.
Do you guarantee the security and confidentiality of our intellectual property?
This clause is covered in the IP contract, and NDA is also signed between PIXOBOTS and the customer specifying the same. The same clause is also covered in the contract signed between PIXOBOTS and its employees. In addition, we audit our processes and train employees on a regular basis. These efforts ensure that our customers' intellectual property is always secure.
Is there any hidden cost?
No. We discuss with you your website requirements and then price accordingly and once you have placed an order for your website design with us. We work hard so that the outlined price quote is strictly adhered to.
What after-sales service do you offer?
We provide our clients extended software protection plans. We also fully support any website we design and are always available if you encounter any problems or require new enhancements in your web app. PIXOBOTS offers complete CMS website maintenance & support.