POS (Point of Sale)
The point of sale (POS) is the time and place where a retail transaction is completed.
At the point of sale, the merchant calculates the amount owed by the customer, indicates that amount, may prepare an invoice for the customer (which may be a cash register printout), and indicates the options for the customer to make payment.
It is also the point at which a customer makes a payment to the merchant in exchange for goods or after provision of a service.After receiving payment, the merchant may issue a receipt for the transaction, which is usually printed but is increasingly being dispensed with or sent electronically.
Businesses are increasingly adopting POS systems, and one of the most obvious and compelling reasons is that a POS system does away with the need for price tags. Selling prices are linked to the product code of an item when adding stock, so the cashier merely needs to scan this code to process a sale. If there is a price change, this can also be easily done through the inventory window.
Other advantages include the ability to implement various types of discounts, a loyalty scheme for customers, and more efficient stock control.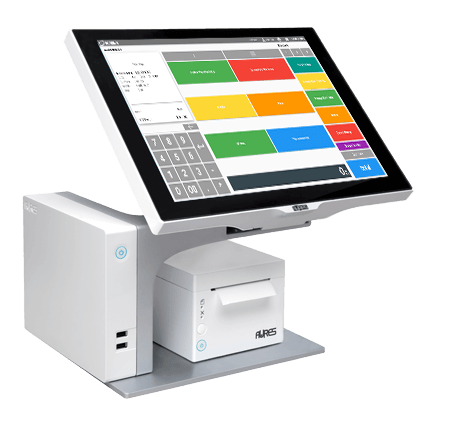 Basic Features
Speed through customer transactions with maximum ease and efficiency on your intuitive ShopKeep register.
Accept multiple payment types for a single transaction or divide a single check numerous ways with just a few quick taps.
Perform efficient returns and issue customer refunds from current or previous shifts, even without a receipt present.
Offer customers the option of leaving a security deposit or partial payment towards items instead of paying all at once.
Create custom discounts like Senior or Employee Discounts, require approval at the register (if needed), and track their usage over time.