Hire Xamarin App
Outsource custom Xamarin app development to a leading offshore cross-platform apps development company. Save time & cost with our skilled Xamarin mobile app development team, state-of-the-art infrastructure and latest technologies.
On Time Delivery with Agile/DevOps Approach
Strict NDA Terms for Complete Privacy
Work with Worlds's Top 2% Developers
Save Upto 60% On Development
100% Money Back Guaranteed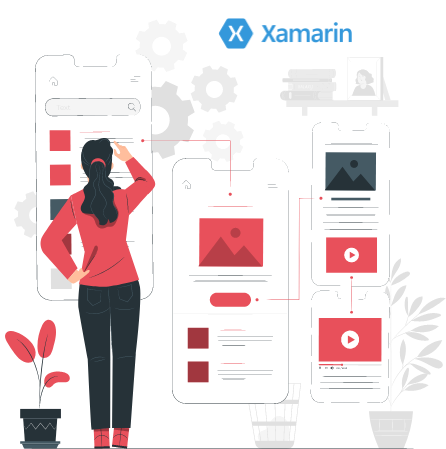 Benefits of Choosing Xamarin Mobile Application Development
Xamarin is one of the most used mobile app development technologies for business apps. Here are some key points that make Xamarin one of the best frameworks for cross-platform application development.
Provides multi-platform support so that you can develop iOS, Android, and Windows Mobile applications
Xamarin is very effective for offline applications where internet connections are not required.
Xamarin supports MVC and MVVM architecture which make applications secure and managed.
Provides you with TestCloud for automatic testing & achieve optimal application performance
DotNet coders can use Xamarin to develop mobile applications more easily without learning new technology.
Xamarin has a library which allows you to write native UIs for once to ensure maximum performance.
Our Xamarin Mobile App Development Services
Counted among the best custom mobile app development companies, we cover a wide array of Xamarin app development services that include
Custom Xamarin App Development
Our years of domain expertise helps us in providing secure, scalable, feature packed and high performing Xamarin cross-platform applications.
Enterprise Oriented Solutions
Get high performing and scalable enterprise oriented Xamarin cross-platform app solutions as per the specific needs and requirements of your business.
Migration & Upgradation Services
If you want to migrate your app to other platform or upgrade the present version of cross-platform app, we are always ready to help you.
Xamarin App Consulting Services
If you want to know anything about your cross-platform app development requirements, feel free to contact us and our experts are ready to help you.
Xamarin App Support & Maintenance
In addition to the Xamarin cross-platform App development services, we are also proficient in providing round the clock Xamarin cross-platform app development support & maintenance to clients.
QA and Testing Services
You can ensure smooth workflow of the Java application and website with our all-the-time active application and maintenance technical support.
Xamarin App Development Industry Verticals
Being one of the best Xamarin cross-platform app development companies, we cater to a wide array of business verticals that include
Retail & ECommerce
PIXOBOTS builds powerful e-commerce solutions created on Xamarin including e-carts & marketplaces, auctions & reverse auctions, social commerce solutions, etc.
E-Learning Solutions
Our e-learning solutions created on Xamarin include online training web apps, learning management systems, corporate learning portals, online courses, to name a few.
Social Networks Solutions
The web app with social connectivity developed by PIXOBOTS include social networks & communities, collaboration solutions, blogs & Wikis, etc.
Travel & Tourism Solutions
Our agile software development solutions improve your travel business' RoI and lessen operational cost and various business operations.
Logistics & Transport Solutions
Our result driven software development services for logistics & transportations maximize RoI and effectively manage daily workflows.
Media and Entertainment
Our Xamarin development company provides online promotion solutions, social networking development tools, media content distribution channels with the use of the latest trends.
Healthcare App Solutions
Our Xamarin development company is specialized in developing advanced e-healthcare solutions with end-to-end web & mobile healthcare application development services.
Banking & Finance Solutions
Our Xamarin development company provides custom banking & financial software development services for constant cost leadership, increased operational efficiency and agility.
Automotive Solutions
Our innovative Xamarin mobile applications help the automotive sector to be more cost efficient & sustainable and get maximum RoI with streamlined business.
Frequently Asked Questions
Here are some questions related to Xamarin app development that are frequently asked by our clients. If you need more information about Xamarin app development or have any any other question, feel free to contact us.
Why should I choose PIXOBOTS for Xamarin Development services?
We have successfully delivered 13800+ projects till now with utmost quality and on-time delivery. It clearly shows how dedicated we are towards our work ethics. Plus, our Flexible Engagement Models and strict NDA policy has always attracted clients to get their projects done from us.
What is the experience of your Xamarin Development Team?
We are bound to deliver the best results to our clients, and that's the reasons why we only prefer 3+years experienced and skilled developers.
What is the list of your clients?
We have served many top clients till date including Citigroup, eBay, Hewlett-Packard (HP), Ted Breaker London, and more.
Does the Xamarin app projects comprise of high quality standards?
Yes, before the deployment phase, the app developers perform a specific testing process in the multiple devices & corrections are made accordingly so that the app performs flawlessly.
Is it true that Xamarin can save 40% of the overall cost?
If you are choosing Xamarin forms, you can even share 90% of the code to reduce your cost like upto 40%.
What kind of apps can you develop using Xamarin?
Xamarin may be useful for building apps of all kinds across various industries. With Xamarin.iOS and Xamarin.Android, we can develop almost indistinguishable apps from the native counterparts with some time and cost benefits that the Xamarin cross-platform app development platform provides.
What is cross-platform or cross platform mobile app development?
Cross platform mobile app development is the production of smartphone applications that work across multiple devices, regardless of operating system (iOS, Android, etc). The benefit of PIXOBOTS is that our apps can be easily deployed to multiple app stores (Google Play, Apple App Store).
What is native app development?
Native mobile application development refers to the development of mobile apps that will run entirely on a device's OS (iOS, Android, etc). PIXOBOTS takes the cross-platform app roach by allowing native functionality while other processes and data is stored online.
What platform should we target? iOS / Android or both?
With the growing popularity of both iPhone and latest Android smartphones, we recommend to launch the product in both the platforms.
Should we support iPad version for iOS and tablet version for Android?
Yes, if you have the budget flexibility; you should have specialized iPad and tablet version of app.
Can I select my preferred developer?
Yes, you can select the developers as per your preferences and requirements. We provide you resumes of selected programmers. Then, you can select few of them which will work dedicatedly on your project.
I am non technical person who wants to build an app. How can you help me?
Just drop us an email with what you are thinking, and our sales team will help you to define a flow of the system; which will be followed up by development of a product.
Will I need to have face-to-face meeting to begin the project?
In the majority of cases face-to-face meeting is not necessary and most of our web apps are generally completed with contact via telephone, email, or Skype only.
Would you take care of submission of application in app store?
Yes, that would be our free service and part of our contract.
How frequently I would get updates?
At beginning of project itself, you will be given project plan with approximate dates for deliverables so you can plan your day to check work. We normally give updates weekly or every 2 weeks to show periodic progress.
Is there any hidden cost?
No. We discuss with you your website requirements and then price accordingly and once you have placed an order for your website design with us. We work hard so that the outlined price quote is strictly adhered to.
Should I have web app with all features same as that of application?
It is not mandatory to have web app with same features as application. You can target app development first with one page website. On getting more traction, you can have responsive website with features same as application.