Mobile Application
If you have an idea, we have an app development team which can transform your idea into a secure & feature-packed mobile application.
From the initial planning until the final deployment in the app store, our mobile apps development company covers everything.
We build both native and cross-platform mobile apps with advanced feature integration based on Augmented Reality, Virtual Reality and many more.
When you choose us, you get trust of a brand with 100% money back guarantee, World's best mobile app development team.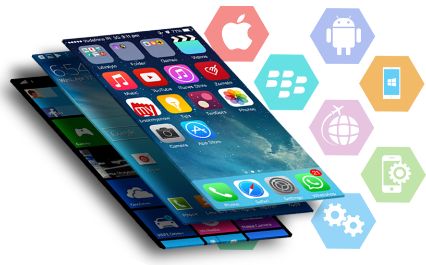 Our Mobile App Development Services
We are India's most trusted mobile app development company offering full-cycle mobility solutions from initial conceptualization of your application to the final deployment in the app store & maintenance.
Custom Mobile App Development
We have more than a decade of experience in creating feature-packed customized mobile applications. Our out-of-the-box development approach makes us the top mobile app development company.
Native App Development
Our mobile application development company provides full cycle development of secure, scalable and feature packed native mobile applications that are known for its optimum performance and advanced features.
App Technology Consulting
Our mobile app consulting team offers technology advises so that you can implement the most suited technology-stack and well-thought-out system architecture for your mobile app.
App Development Team
If you need a dedicated app development team as your team extension or your app development project, we are here to help you. We have app developers with years of average experience.
Upgradation & Migration
If you want to upgrade your existing mobile app to the latest technology or want to migrate your app to different operating system or platform, we are here to help you with our expert team.
App Integration
We also provide latest technology integration, payment gateway integration and API integration in your existing mobile app to enhance its functionality, security and keep them up-to-date.
Mobile Application Development Technologies
Ready To Get Started?
Looking for professional mobile app development services? We provide custom Android & iOS app development services applying innovative technologies to propel businesses to the next level. Our well-defined and manageable processes are balanced between cost, time and quality along with clear communication. We also help you if need expert advise for you mobile app project.
Frequently Asked Questions
Here are some questions related to custom mobile app development that are frequently asked by our clients. If you need more information or have any other question, feel free to contact us.
May I know why to choose PIXOBOTS for Mobile app development?
one of the most authentic reasons behind this is that we have worked with multiple clients and have created mobile applications for more than 500 companies. Have a look at some of the benefits for hiring mobile app developers from
Pixobots
• Dedicated and skilled developers
• Work with agile method
• Provide guaranteed brand trust
What are the different types of mobile applications you can develop?
Our mobile application developers can develop all types of Android & iOS apps, including
• Native Apps Development (for Android & iOS)
• Mobile-Web Apps Development
• Hybrid or Cross-Platform Apps Development
Which are the happy clients you have worked with earlier?
The names like Toyshop UK, Craftsfood, Tedbaker and others are some of the happy clients who are running their successful mobile applications created by Pixobots.
Why should I choose a mobile application development company?
While choosing any Application development company for your project, several aspects have to be taken care of. Some of them include the firm's previous experience, availability of skilled developers, on-time completion of the project, etc. Outsourcing your project conveniently covers all such advantages as follows:
Low cost of Development: You will be surprised to learn the rates of developers. The nominal rates of skilled developers vary between $30 to $45 per hour, which is comparatively much lower than the usual development rates. The country has a pool of developers owing to multiple IT companies regularly opening, which you can use to your advantage.
Experienced Developers: You can easily find skilled developers having worked on multiple projects. We at PIXOBOTS have a team of developers that have successfully handled 13800+ projects. Outstanding performance has bagged us 6800+ happy clients, which is regularly increasing. Having skilled developers working on your project ensures the smooth working of the final product with zero technical glitches.
Fixed Schedule and Regular Updates:
The country offers top app development companies that ensure the smooth following of fixed schedules and daily updates of your project development. At Pixel Crayons, we understand the potential loss a firm may suffer due to delay in the project and always stick to the committed schedule. We also offer a transparent update of the real-time development to the clients.
Flexible Time Zones: A significant drawback of outsourcing to international platforms is compatibility with the time zones. However, India's convenient government policies have led app making companies come up with multiple working shifts. It means communication is available at your convenience in your time zone.
Thus, you need not worry about the conflicting time zone when outsourcing your project to Indian companies. Various companies use the time zone difference to their advantage by being available for round the clock hours at the client's service.
Better User Experience: Indian app designing company ensures to focus on the right UX that offers a wholesome feeling to the users. Implementing the right UX design based on the operating system guidelines provide zero technical glitches for the users. Furthermore, elegant content that offers an intuitive flow to the users ensures the development of a user-friendly app.
We at PIXOBOTS have worked for multiple international clients across 38+ countries. Abiding by the strict NDA (Non-Disclosure Agreement) rules for all our customers, we have handled successful projects of HP, Puma, eBay, Qatar Airways, Vodafone, Ted Baker (London), and many more such clients.
Which is the best platform for mobile application development: Android or iOS?
Choosing between Android and iOS for your app development services is highly influenced by the target audience and your project's core vision. Android and iOS together account for greater than 99% of the OS market share. While Android stands for 74.6% in July 2020, the iOS market share is at 24.82% for July 2020.
Overall, you can opt for either of the two platforms based on your specific requirements and business audience. You can go for Android when your app marketing strategy has the following needs or demands:
• When you want your mobile app to be available to a larger group of audience, for example, you want to develop a free gaming app that must have a large user base.
• You want to reduce the risk of rejection from the app store owing to high competition or relatively new ideas of your app.
• Your target audience is the significant population of Germany, Brazil, India, Canada, etc.
Similarly, you can opt for iOS application development services under the following demands:
• You are building an app whose users will be highly concerned about its security level.
• You are looking for a dedicated audience of app users that don't shy away from spending money over the in-app purchase.
• You are looking for a dedicated audience of app users that don't shy away from spending money over the in-app purchase.
You can connect with us according to your convenience to have a proper consultation for the most suitable platform for your app's idea.
Why do most mobile applications fail to survive in the app store?
Approximately 3739 apps are released every day, which means nearly 2.5 apps get released for every minute passed. Despite the growing popularity of the app marketing business, the enterprise application development success rate stands at 1 for every 10,000 apps released into the market.
What is it that the 9,999 are failing to offer the users resulting in getting forever deleted after a single time use or merely failing to reach the target audience? Look at the top 5 reasons responsible for the failure of mobile applications in the app store:
Not considering the Target Audience: The best app development companies don't come with a generic app design typical for everyone. Instead, they spend a lot of time researching the target audience's needs and demands to ensure the app's dedicated development. Several features of the app get added and removed while during the research of the app.
For Example, a magazine-based app will have a better UX when it offers elegant content and night/dark mode of reading, as several readers prefer to read at night. In contrast, an app dedicated to senior citizens' health care should opt for large fonts and more spacing between pointers owing to weak eye-sight of the audience.
Content is Not Engaging: Elegant content plays a vital role in the success of your app. You may find it astonishing that 59% of users will uninstall your app when they find it dull and boring. Your app needs relationship marketing features to reach a wider audience via each other recommendations. >
For Example, the gaming application allows users to post their victories over Facebook, Instagram, etc.
App Performance Gets Compromised: Certain aspects can be compromised and cannot be compromised, depending upon its type. Small size and good speed are non-comprising aspects for almost every app type. A team of skilled developers ensures small size and high-speed performance for the users without sacrificing the app's key features.
For Example, users nowadays prefer to download the lite version of the apps as they take up less space and have good speed than their original counterparts. Going for the Ready-Made templates: Ready-made templates are hardly reliable owing to their generic features developed for the masses. However, when you want to create an app with multiple features and reach a wider audience! It requires professionals from a custom application development company that spends a considerable amount of time researching the must have elements of the app.
Our skilled team of developers at PIXOBOTS has handled 13800+ successful projects owing to user-oriented innovative designs and features.
Low Strategy for launching the App: You may have developed a great app, but ensuring a good launching plan is equally necessary for your app. An initial push towards the target audience with resourceful information about the app's features provides downloads that don't end in bins. Hence, the app launch must get adequately planned.
Why PIXOBOTS is the best for custom mobile app development project?
We are World's most trusted mobile application development company created thousands of successful mobile apps from startups to fortune 500 companies. Here are some of USPs that make us the most reliable app development company:
- 100% Money Back Guarantee If you are not satisfied with your app development project
- Agile Process and DevOps approach to ensure on time project delivery with zero bugs
- We are 50% cheaper and 2X faster than our competitors
- You will get trust of a brand

What are the different types of mobile applications you can create?
Our application development company can develop all types of Android & iOS apps, including-
- Native Apps Development (for Android & iOS)
- Mobile-Web Apps Development
- Hybrid or Cross-Platform Apps Development

Can you build apps for Android and iOS?
Yes. The majority of apps we design to support both Android and iOS mobile platforms. We create apps to work across mobile and web devices, so we integrate development framework including, React Native and React that help us to quickly back both platforms.
Why should we hire PIXOBOTS over another agency?
Our application development company have 15+ years of experience in software consulting and a decade of experience in mobile app development. Our clients hire us because of our unique capabilities and track record of delivering complex applications and online portal development projects.
Will I have my own source code?
Yes, Definitely. We will give your personal source code. You will get an appropriate license or copyrights for the bespoke code that we develop for your project. We believe in full transparency with intellectual rights and you will get the opportunity to review your own source code according to the ownership terms.
What is the team strength of your mobile app development company?
The company has more than 500+ employees including associates, software developers, mobile app developers, quality analysts, and UI/UX designers.
Once my custom application development project is completed, what after-sales service do you offer?
We provide our clients with extended software protection plans. We also fully support any website we design and are always available if you encounter any problems or require new enhancements in your mobile app. PIXOBOTS offers complete mobile app maintenance & support.
Do you create a web application too?
Yes, in fact nearly every mobile app that we build also needs a web-based application behind the scenes to drive it. Ever logged into an app? There is a web server in the background, serving the app with data that is checking whether you have permission to log in, or not.
What are the security measures you follow to make my mobile app idea safe?
We will sign a strict non-disclosure agreement with you in order to ensure the security of your mobile app idea.
In how much time you develop a mobile application
The time to create a fully functional mobile application is based on many factors. Customized app UI/UX designing work can take anywhere from 1 to 4 weeks, depending on the complexity of the project and the number of revisions you need. After that development phase needs an additional 1 to 6 weeks, depending on the number of pages and functionality required. We follow an agile development process that helps us to deliver your project in a minimum possible time.
Can I select my preferred mobile app development team?
Yes, you can select the developers as per your preferences and requirements. We provide you with resumes of selected programmers. Then, you can select a few of them which will work dedicatedly to your project.
Can I see my mobile app while it's in progress
Absolutely! In fact, we encourage it. We build your app on our development server and provide you with a password and username so that you can log in and monitor the progress of your website.
How many types of app can you create?
We develop a broad range of apps ranging from entertainment, utilities, finance, travel, productivity, business, social networking, weather, children's apps to gaming.
Do you only create native apps?
No, our mobile app development team are proficient in cross/hybrid platforms apps development. We discuss the requirements and also suggest which platform and what kind of app development process will benefit you the most.
What is the team strength of your mobile app development company?
The company has more than 500+ employees including associates, software developers, mobile app developers, quality analysts, and UI/UX designers.
I am not a mobile-tech-savvy person but I want an app. How can you help in this case?
No trouble. It is not an issue at all. We stay honest with both non-technical and technical clients. In fact, we have worked for various non-IT industries and assisted them by successfully executing their mobile apps.