Software Consulting Company
Are you confused about the right software technologies suitable for your business? Do you want to save time & cost on software development project?
Choose Pixobots technology consulting services. From resolving complex software development issues to strategic digital transformation, our software consulting company provides result-oriented technical guidance to businesses.
We provide software & IT consulting services for all the advanced technologies like AR/VR and more.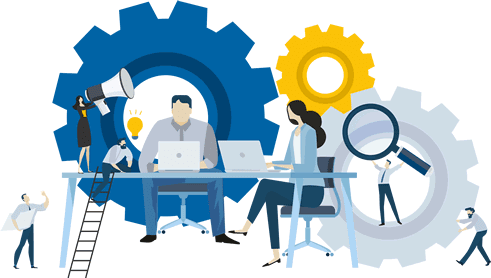 Helping Enterprises In Diverse Software Initiatives
Our software consulting team provides clients with the best plus advanced technological solutions for AR/VR,and more to help your business compete in the market.
Application Development
Our expert technology consultants provide you with customized app solutions to reduce cost & time plus earn high RoI.
Digital Transformation
Boost operational efficiency and RoI through process automation, workflows digitization, and enterprise integration.
Software Product Development
If you want to build your own SaaS-based or cloud-based software products, our consultants can help you out in it well.
Channel Extension
Ensure your presence anytime, anywhere by introducing social and mobile technologies into your business.
Cost Optimization
Improve the readiness of your project for support & maintenance and save your time & cost with our pre‑support auditing service.
DevOps Implementatio
Our expert set-up DevOps environments to streamline update delivery and reinforce cross-departmental integrity of different businesses.
Development Re-Engineering
Increase the development of productivity and project visibility by introducing agile practices under the guidance of our experts.
IT Infrastructure Upgrade
Revitalize your hardware, software and network resources and cut down on TCO by complete infrastructure virtualization and migration to the cloud.
Service Breakdown Benchmarking
Our software consulting expert gauges your business performance and detect various bottlenecks. They use analysis tools without causing interference with your existing workflows.
Software Consulting at Every Business Stage
Be it a slight change to your existing system or development from scratch, our full stack developers and technology consultants assist you on attaining your goal with minimum investments.
START
For progressive enterprises like you, our IT strategy consulting firm offers a comprehensive technological road mapping and market research to back your decisions. Our professional software consulting team offers you an ad-hoc training so that you cross the hurdle easily.
SCALE
Our tech consulting firm backs the enterprises to expand their existing systems to answer the surged complexity of market participation. Our tech-trained professionals find out financial capabilities, unique operational, & growth points to suggest blooming growth solutions.
DISTRUPT
Our IT strategy consulting company provides open-ended services to elevate insight and build long-term alliances with enterprises by offering technologically advanced services that result in continuous developments in infrastructure.
Our Approach to Software Consultancy
Being a trusted software consulting company, we make sure to provide result oriented approach for the IT consulting services.
Understanding your idea
Our software consultants in india first understand your idea, vision and business needs before we can propose you the right technical solution.
Scoping the Problems
Our IT consulting company conducts user interviews to know their significant IT challenges and identify user expectations to understand the project better and plan the right strategy.
Techno business sessions
Based on your version of the idea vis-à-vis actual ground requirements, our expert IT consultants perform intense brainstorming sessions.
Building success for your business
The techno business sessions output gives us the required clarity based on which we deploy our technical resources to the project.
Ready To Get Started?
Looking for professional IT consulting services? We are one of the top IT consulting firms providing custom software consulting services on variegated advanced technologies to propel businesses to the next generation software development. With our well-researched software advise customers can save time and cost in their next software development project. Are you confused which software technology and what process is best for you? Do you have software idea nad don't know from where to start?
Covering All Major Industries
Being one of the top technology consulting firms, we cater to a wide gamut of business industries and verticals. Some of the industries for which our tech consulting firm provides solutions are
Healthcare App Solutions
We provide complete software solutions to the healthcare industry. Our IT consulting solutions effectively improve internal processes and enhance operational efficiencies.
Retail & eCommerce
Our tech consulting expert provides e-commerce consulting solutions for B2B and B2C customers including e-carts & marketplaces, social commerce solutions, e-auction sites, to name a few.
Travel & Tourism Solutions
From us, you will get effective software consulting solutions for the travel industry to grow your tour & travel business' RoI and reduce its operational cost to make it more profitable
Education and eLearning
Our custom e-learning software consulting solutions comprises online training apps, online courses, learning management systems, corporate learning portals, to name a few.
Banking & Finance Solutions
Our tech consulting firm provides consulting solutions banking & financial industry that help them in increasing operational efficiency and providing constant cost leadership & agility.
Logistics Transport Solutions
Our result driven software development services for logistics & transportations maximize RoI and effectively manage daily workflows.
Media & Entertainment
Being one of the best technology consulting companies, we offer consulting solutions to the media & entertainment industry on their social networking development tools and online promotion solutions.
Publishing & Advertising
Our advanced publishing and advertising app consulting solutions help companies to empower their business models to meet the future digital needs.
Automotive Solutions
We are a leading tech consulting firm, and our innovative web and mobile applications consulting solutions help the automotive sector to become more cost-efficient & sustainable.
Frequently Asked Questions
Here are some questions that are frequently asked by our clients related to software consulting strategy and services. If you need more information or have any any other question related to technology consulting, feel free to contact us.
Why should I trust PIXOBOTS for IT Consulting and Strategy?
PIXOBOTS is a software firm based since 2004. With 6800+ happy customers 13800+successful projects so far, our company has become a distinguished name in the IT development solution place. Also, GoodFirms has acclaimed PIXOBOTS as the best company for IT development services, consulting and strategy.
Moreover, our employees are always high on spirit and always ready to accept challenges at any time. You will never have to face any communication barrier with our employees that will further ease and fasten the entire process.
How many years of experience does your IT consultant team have?
2. How many years of experience does your IT consultant team have? At Pixobots, we always eye for the talent in our employees. We hire experienced consultants with 5+ years of experience. However, we also employ fresher and mid-level consultants by conducting 4 rounds of rigorous written and interview test.
What is the list of your clients?
Till now, we have served many clients from different industries. Some of these biggies are Austin, Adobe, TESCO, Vodafone and more.
What are IT consulting services?
Software or technology consultants are specialists who have expertise in technology, software platform, tools, or products. All consultants are responsible to efficiently work according to the client requirements using the skills to deliver the best output product before the deadlines. Precisely, software technology consultants help companies with pro tips and show them the best software practices to solve their business problems.
How software developers, software consultants, and software contractors are different from each other?
Software developers- these are the people that develop applications that permit people to perform various tasks on a computer or any other device. They are the creative minds behind computer programming. Besides, there are other developers who work for underlying systems that run the devices and control networks.
Software Consultant- is not an employee. He/She is brought in to provide advice (consultancy) as to how the application should be implemented using current industry approaches. Often the consultant provides technical advice on how to configure a large application (SAP, Oracle etc). Consultants may or may not be programmers. This field is more about marketing yourself. Consultants often multitask and handle more than one project at a time. A consultant is often tasked with leading an initiative rather than waiting for specific direction. For example, instead of waiting to be asked what the status of a task is or what tasks are outstanding, the consultant provides a list of tasks, the status, and a schedule. Instead of doing just what the client requests, a consultant looks for other opportunities for improvement while doing the expected work.
Software contractor- These people focused on a single type of mid-level activity—such as programming in a specific language or with a specific tool. Contractors focus on a limited scope. They work on specific tasks at the direction of others and often are unaware of the scope, business goals, or impact of the overall project. Contractors generally fill a void in the skill sets of their clients or provide additional resources for accomplishing a goal.
How is PIXOBOTS different from other software consulting companies?
At Pixobots, we have a robust recruiting process that filters for software development and leadership skills (IQ) as well as emotional intelligence (EQ) skills, and the commitment to get things done (PQ). We train our community members to provide excellent experience to deliver better software every time.
What types of clients have you worked with?
Our software consulting company majorly deals-in ISVs, SMEs, digital agencies and enterprises. We also have software clients in education, finance, healthcare, media, automotive and retail. Additionally, we serve tech-enabled companies that develop custom software for their business to use internally, as a competitive advantage.
What sets software consultants apart from developers?
The biggest difference between software consultants and developers is that in addition to technical skills, software technology consultants also must have people skills. They must be able to put their egos aside and quickly grasp what the client wants. Technology consultants have to have the people skills to draw out the client to distinguish between what the client says they want and what they really want. They must come up to speed quickly and solve the correct problem rather than the wrong problem correctly.
What differentiates PIXOBOTS from its competitors?
Our people and processes. PIXOBOTS has a robust recruiting process that filters for software development and leadership skills (IQ), as well as emotional intelligence (EQ) skills, and the commitment to get things done (PQ). We train our community members to provide excellent experience to deliver better software every time.
What is your typical process for working with a new client?
An engagement process with PIXOBOTS usually follows these steps:
1. Exploratory discussion to identify areas of need and determine if there is a mutually beneficial relationship.
2. Technical discussion– Sometimes, this is paired with the exploratory discussion. This is where we get into the technical details of what you have and what you are looking for.
3. Qualification call– This is where we identify all of the resources that you may need for your project. Prior to this call, we may provide you with resumes for consideration.
4. Documentation–This is the final step before engagement, where we document the relationship by completing a Master Service Agreement (MSA) for the relationship and a Statement of Work (SOW) for the specific project. In these documents, we outline the relationship parameters, as well as project, resources, costs, timeline and associated dependencies.
How do you manage communications and meetings when your development resources are located abroad?
We offer Skype or telephone calls service for scheduling the meetings. We offer our customers access to our project management tool or solution, which allows them to keep an eye on the project progress 24*7. During this period, the client can interact with the whole team or the main resource(s) depending upon the need. If the client wants us to work at certain hours (i.e. outside our normal hours of operation); we don't take our foot back but do it for an additional charge.
What things should I take into consideration before engaging with ?
If you are unsure about your product, your strategy or direction, or how many people you will need or the types of expertise required, PIXOBOTS is happy to help you with a free assessment. There is no commitment, and the process will help you clarify key requirements to get your project completed successfully.
What lead time is typically needed for different types of engagements before my project can start?
Depending on the skillset and volume of the project, we can get started in 2-4 weeks.
Will I need to have face-to-face meeting to begin the project?
In the majority of cases face-to-face meeting is not necessary and most of our web apps are generally completed with contact via telephone, email, or skype only. We place suggested software designs online via, our secure testing server for you to view the work in progress.
Do you also provide software development services, and how many software developers you assign to a project?
Yes, we also provide full cycle software development services. Well, the number of resources employed for a project depends upon the complexity and scale of the project. For instance - we allocate at least two developers, one tester and a part-time UI/UX Designer for a small scale project. Apart from that, each project will employ a Business Analyst, Technical Architect, and Project Manager.
How do I develop a product with you?
If you have any idea, you can contact us via. online form, e-mail or phone. We'll meet and talk about it. Just be sure to prepare and collect as much information about your idea as possible, as it will help in the meeting and result in better cooperation.
What should I do before contacting you?
If you are thinking of reaching us. Welcome! The most vital thing to know is what do you want to achieve? Why do you need this software? For What? What will you do with it? Having a clear picture in the mind is quite crucial when going for a software application. We'll be glad to share hands with you to get started and build projects from scratch.
What Industries do you serve?
We serve all the major industries that include education, finance, healthcare, media, automotive and retail.
Why should I hire a software consultant over a software developer?
The biggest difference between software consultants and developers is that in addition to technical skills, software technology consultants also have people skills. They quickly grasp the needs of the client. Technology consultants have the people skills to draw out the literal meaning of what the client is saying and what they really want. They come up quickly with the solution and solve the correct problem rather than the wrong problem correctly.
What frameworks and methodologies do you use in your consulting practices?
Primary software focus is in PHP, .NET, Java, Android, iOS, Xamarin, React Native, Angular, Node, React, Magento, WooCommerce, Shopify, IoT, machine learning, AR/VR, artificial intelligence, chatbots, Blockchain etc. For other latest technologies, you can visit pixobots.com
Is there any hidden cost?
No, our software consulting team discusses with your software requirements and quote the price accordingly. Once you have placed an order for your software design with us, we work hard so that the outlined price quote gets adhered strictly.
How do you price your services?
Pricing is created on a project basis or a retainer schedule. Since the resource needs of each company are different, pricing for each project is customized and presented in the SOW. In general, the initial cost for Pixobots expert resources is higher than hiring a traditional employee. However, the benefits include a faster time for learning ramp-up, faster time to software delivery. Other benefits include the flexibility to contract for a part-time or short-term commitment, all of which easily offset the costs. Pricing is typically based on hourly time and expenses, weekly or monthly retainers, or fixed project bids.