Dynamic CRM
CRM driven solutions improve the way you interact and do business with your customers. When it comes to customer engagement and Salesforce automation, Microsoft Dynamics CRM is a leading product.
Microsoft Dynamics CRM is a customer relationship management software package developed by Microsoft. The product focuses mainly on sales, marketing, and service (help desk) sectors, but Microsoft has been marketing Dynamics CRM as a CRM platform and has been encouraging partners to use its proprietary (.NET based) framework to customize it. It is part of the Microsoft Dynamics family of business applications.
Dynamics CRM is a server-client application, which, like Microsoft SharePoint, is primarily an IIS-based web application which also supports extensive web services interfaces.
Clients access Dynamics CRM either by using a browser or by a thick client plug-in to Microsoft Outlook.
Feature of Dynamic CRM
Use an integrated suite of products for each of your company's departments, from sales to finance.
With Microsoft Dynamics CRM, you can handle your leads more effectively by tracking down all leads in one centralized location.
With the help of duplicate data detection feature in Dynamics CRM, you can detect and handle duplicate data effectively. This feature ensures that your business data is precise and clean by detecting potential duplicate records.
The multi-currency functionality in Microsoft CRM software comes in essential when customer transactions are recorded in more than one currency.
The new multi-language user interface is a valuable addition for companies supporting locations globally.
Dynamics CRM enables you to view all details and information about your deals and opportunities at one central place.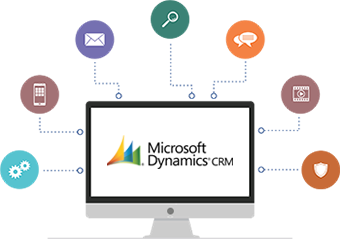 Why do Need Dynamic CRM?
With a single application of MS CRM development services, you can customize your marketing efforts, align it with the sales goals and bring a collaborative work atmosphere.
Dynamics CRM has an excellent set of features to collect and save customer information, details about leads and gathering insights about the industry.
You can also use the multichannel operations of the CRM platform to target customers with varying marketing strategies.
MS CRM development allows integrating the CRM features with AI tools and big data analytics, which makes it a one-stop platform for corporate decision making.
DYNAMICS CRM CONSULTING
Our developers ensure that they are there to help the business organizations and enterprises with every little thing.
CRM INTEGRATION SOLUTIONS
With the integration of Dynamics CRM with numerous business applications it offers several advantages to your business enterprise.
DYNAMICS CRM CUSTOMIZATION
Dynamics CRM customization services used extensively by business enterprises and organizations all around the world.
Dynamics CRM Plug-in
Development
CRM platform by allowing us to develop custom Dynamics CRM plug-ins for you so that you can extract the maximum benefit from it.
Dynamics CRM Upgrade
Upgrade your existing Dynamics CRM setup as per the latest industry guidelines. Our experts will ensure your teams face a minimum learning curve and adapt well to the upgrade.
CRM SUPPORT SERVICES
With Dynamics CRM Support services you get a wonderful level of support for your customers in the cloud.