Hire Custom Software Developers
Hire dedicated software developers who understand your core needs, become a part of your company and customize software applications as per your specific business demands. Our software engineers are capable of creating advanced software apps based on AR/VR, IoT, AI .
Strict NDA Signed for complete privacy
Save Upto 60% Cost on software development
First-Time-Right to get correct output in first go
Save Upto 60% On Development
Flexible Engagements (fixed cost, full time or hourly)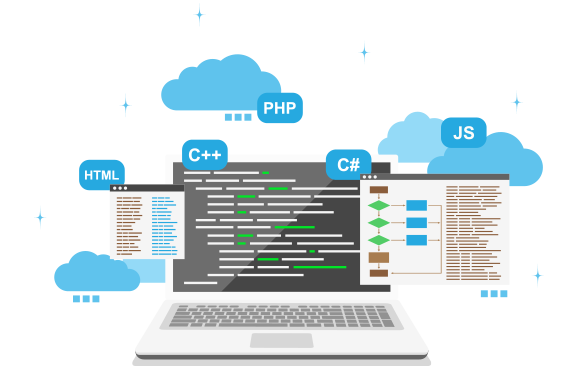 Hire Software Developers for Your Requirements
Let's have a quick glance over the software developers for hire by choosing Pixobots. We are the preferred choice of agencies, enterprises, ISVs and SMEs for their requirement of dedicated software developers.
Enterprise Software Developers
Our dedicated software programmers who always strive to create client-specific apps that are acknowledged for security, scalability & advanced features.
Web App Developers
Hire software coders from PIXOBOTS who have vast experience at developing front-end and backends of web apps including eCommerce stores, CMS, etc.
Mobile App Developers
Our dedicated software designers have rich domain expertise in developing native (iOS & Android) as well as hybrid (Xamarin & React native) mobile apps.
Desktop Application Developers
Hire Indian software programmers from PIXOBOTS and get user-friendly and feature-packed desktop apps to get more out of your desktop computers.
Big Data Developers
When you hire an Indian software developer, you get a skilled team of coders who can easily create Hadoop based big data applications that are acknowledged for its precise analytics.
Software Product Developers
When you outsource software projects, you get software developers and programmers who can develop feature-packed and custom software products as per your needs.
Software Consultants
Our software consultants thoroughly analyze your business requirements prior to suggesting the optimal solution. This way you can save your pricious time and cost.
Software Product Re-engineers
Our expert software re-engineers can adeptly modify your existing software to meet your dynamic business needs. You get industry best software re-engineering services.
Software Integration Experts
Our software engineers are competent to perform software integration in order to considerably enhance your software performance.
Real-time Software Developers
When you choose PIXOBOTS to hire software developers and programmers, you get advanced level real-time applications on latest technologies and trends.
Experts for Technologies Migration
If you want migration of your software app from one technology to another, choose our offshore software developers and get hassle-free migration at an affordable cost.
Support & Maintenance
Pixobots offshore software programmers help you in complete support & maintenance of your present software and keep it up-to-date.
Why Hire Software Developers
Looking for Indian software programmers for hire? Besides timely delivering robust software development solutions, Indian software programmers bring along a host of benefits including
Get Skilled Software Coders
Outsourcing software agencies follow strict procedure for recruiting software coders & developers.
Easy Accessibility
You will never face an Accessibility issue if you hire offshore software developers, programmers, and coders.
Modern Project Management
All our software developers are well-acquainted to work with modern project management tools like Jira, GitLab used.
Stop Wasting Resources
You will have to spend a lot of time and money for this process which is indeed a waste.
High Quality Development
All our software developers are acquainted to work with modern project management tools like Zoho Project, Bibucket,Trello used.
Save Operational Cost
All our hiring models for software developers are cost-effective- that will never exceed client's budgets and ensure value for money.
Healthcare App Solutions
Our Xamarin development company is specialized in developing advanced e-healthcare solutions with end-to-end web & mobile healthcare application development services.
Banking & Finance Solutions
Our Xamarin development company provides custom banking & financial software development services for constant cost leadership, increased operational efficiency and agility.
Automotive Solutions
Our innovative Xamarin mobile applications help the automotive sector to be more cost efficient & sustainable and get maximum RoI with streamlined business.
Frequently Asked Questions
Here are some of the frequently asked questions often asked by our clients before hiring software engineers:
What is the length of the contract?
There is no fixed length of the contract as it totally depends on what agreement you are going with. We provide different options for your customized requirements.
Will I have the complete control over my remote software developers team that I hire from your firm?
When you hire software developers, they would be working dedicatedly as your offshore employee. Yes, you will have complete access to your offshore software development team through emails, chat, calls and Skype with daily as well as weekly reporting.
What does a full-stack software developer mean?
Full stack software developers are capable of working both for front end and backend technologies. It means, remote full stack software developers are able to develop software applications from beginning to end. He or She can manage, plan, and build software products with general know-how. They are responsible for creating the coding that makes an application function properly.
How many hours do you work per day?
We work 5 days per week excluding Saturday and Sundays. Although your remote software developers will be available for 8 hours a day, timings are changeable as per your project requirement.
Is there a Project Manager to supervise the resources?
Yes, we do assign a dedicated project manager who not only supervises the team resources but also communicates with you to regularly update the project status.
Do you provide resume of the software developers before hiring?
Yes, we provide detailed resume when you choose software developers online from us. You can then select the best software developers whose experience and skills suits to your project needs.
Will the hired offshore software coders work dedicated only for me?
Yes! The developer you hire online for your project will work exclusively only on your project.
Can I have my offshore software developer replaced in case the performance is not as per my expectations?
Yes! We will replace the developer if we see any performance or discipline issues on the developer's end.
Is hourly-based hiring of offshore software developer also available?
Yes, we do offer the same! Under the hourly basis model or the Time & Material model, you are charged only for the number of hours the developers work on your project.
What is the length of the contract that you provide?
There is no specific length of the contract. It totally depends on the contract plan that you choose. We have different options as per your requirements.
How do you proceed once we agree to the commercial terms and development pattern?
Once both the parties agree to the commercial and development terms, we sign a Service Level Agreement upon which the project development work starts.
What is the maximum waiting period in order to start a particular project?
Waiting period generally depends upon the specific technology and also on the number of resources required for the specific project. Usually it is between 1-3 weeks.