Magento Development
Magento is an open-source e-commerce platform written in PHP. Magento is designed using Zend technology and is known to be the most flexible and highly customizable technology available today.
Magento is a platform away from the widely known e-commerce issues like code-reusability and debugging. Maintainability is superb, so is the community support. Magento one of the widely used ECommerce development platform which provides great capabilities to create small to large-scale ECommerce website & webshops.
Magento platform provides the best online shopping experience for the ECommerce users as well as provides great flexibility to the developers.
Why go for Magento Development?
Magento is an opensource platform and hence has a lot of features that are completely free. It is a big and fast-growing technology.
Magento is very secure, if your server running on a separate system, the information of your online store, products, records of customers, orders and transactions are completely private with no third party access.
With Magento, running and managing online business 24-7 has become stress-free.
Magento has a unique feature i.e 'Magento SEO'. Magento SEO has solved multiple issues by facilitating this unique feature.
The mobile apps of Magento allows store integration across multiple devices to work efficiently on Smartphones, Notebook, iPad etc.
By using Magento, you can easily integrate your site with different payment gateways and web applications such as PayPal, Google Shopping, MailChimp, eBay, QuickBooks, and many more.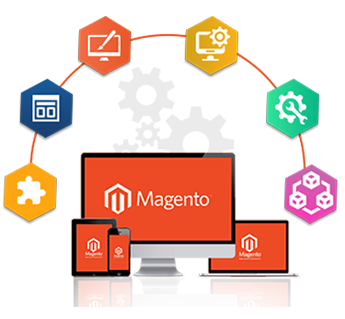 MAGENTO DESIGN
Pixobots has been creating appealing and responsive Magento designs right from the start. We have an experience in building responsive design solutions.
CUSTOM MAGENTO DEVELOPMENT
Our Magento customization competence ensures that your e-commerce store is designed exactly the way you visualize it.
THIRD-PARTY INTEGRATION
Our Magento third-party integration services ensure that your Magento store is empowered with all the tools needed for achieving your business goals.
Magento Migration
Our team holds proven skills with years of expertise in data & platform migration for online retailers. We offer Magento and its ecosystem by moving your existing project from other platforms.
Magento Extensions
Magento Extension Development is always the highest priority for any Magento development as well as Magento projects. Increase the sales volume of your e-com website by adding more and more user-friendly features and functions using extensions.
Frequently Asked Questions
Here are some questions related to Magento web development that are frequently asked by our clients. If you need more information or have any any other question related to Magento development, feel free to contact us.
Why Should I Choose PIXOBOTS For Magento Development Services?
PIXOBOTS is one of a leading Magento development companies that has been acclaimed by GoodFirms for providing the best eCommerce development service across the globe. Also, by choosing Pixobots, you can save up to 70 per cent of your development cost on simple as well as complex enterprise-grade web apps.
How many years of experience does your Magento Development Team hold?
Our team of Magento Web Developers have 5+ years of experience in Magento web development. We hire certified Magento web developers who work on latest technologies and cater to a wide array of business verticals.
How many clients have you served till now?
Our Magento development company has worked with 1500+ clients till now in its 16+ years of experience so far. Well, some of our major clients are Puma, Adobe, Morphy Richards, WarnerBros.
Can I migrate my existing website to Magento platform?
Of course. We can help you migrate your existing web store to Magento. Our skilled and proficient Magento programmers will ensure that your data is migrated successfully to your new website.
How Long Does It Take To Create a Magento Storefront?
The time to create a fully functional Magento storefront is based on many factors. Customized magento web designing work can take anywhere from 1 to 4 weeks, depending on the complexity of the project and the number of revisions you need. After that Magento development phase needs an additional 1 to 6 weeks, depending on the number of pages and functionality required. We follow agile Magento development process that help us to deliver your project in minimum possible time.
Are your Magento storefronts mobile-friendly?
Yes. Every site we have built since our inception has been mobile-friendly. With responsive design methods, we ensure that the websites works well on a wide variety of screen sizes, from tablets and smartphones to small & large desktop monitors.
Will I be having a full time dedicated project manager?
Yes, we will provide you a full time dedicated project manager, who will work for your project dedicatedly. Our project manager updates you about your ongoing project on regular basis. You can provide him your valuable feedback.
Can I select my preferred Magento storefront developer?
Yes, you can select the developers as per your preferences and requirements. We provide you resumes of selected programmers. Then, you can select few of them which will work dedicatedly on your project.
Can I see my Magento storefront while it's in progress?
Absolutely! In fact, we encourage it. We build your web app on our development server, and provide you with a password and username so that you can log in and monitor the progress of your website.
Will I need to have face-to-face meeting to begin the project?
In the majority of cases face-to-face meeting is not necessary and most of our web apps are generally completed with contact via telephone, email, or Skype only. We place suggested website designs online via, our secure testing server for you to view the work in progress.
Will my Magento storefront be Search Engine Friendly?
We create all our websites keeping in mind search engines. The website design & development is compliant with search engine guidelines.
Is there any hidden cost?
No. We discuss with you your website requirements and then price accordingly and once you have placed an order for your website design with us. We work hard so that the outlined price quote is strictly adhered to.
Once my Magento storefront design is completed, what after-sales service do you offer?
You will get 90 days free support and maintainance. After that, we provide our clients extended software protection plans. We also fully support any website we design and are always available if you encounter any problems or require new enhancements in your web app. PIXOBOTS offers complete website maintenance & support.