Hire Angular Developers
Hire expert Angular developers for advanced single-page applications and complete client-side solutions. Our Angular developers work as your extended team and are capable of building real-time & interactive apps.
50% Cheaper & 2X Faster
Easy Team Scaling & No Contract Lock-ins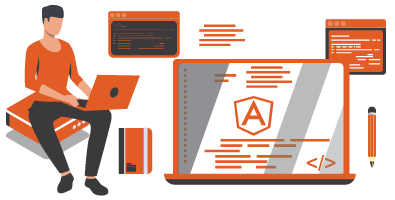 Why Hire Angular Developers ?
When you hire Angular developer, it comes with amazing benefits. Here, you get a specialised team of angular developers, programmers and coders. Let's see how you get benefited with them
Highly Skilled
Indian Angular developers are well-versed in developing quality web applications for the clients. They have acquired profound technical expertise and render the best results always.
Cost-Effective
If you have a limited budget, Indian Angular developers can be your final destination. They are 60 to 70 per cent cheaper across the world with the same expertise.
Timely Results
Angular developers strictly adhere to the deadlines and deliver the project in the stipulated time frame with no ifs and buts.
Latest Technology
All the projects developed are inbuilt with the advanced functionalities. They deploy the latest technological trends and tools to deliver the most competitive software to you.
Easy Communication
When you outsource your Angular project, then you never have to worry about the communication because they can easily communicate with you in English.
No Time Zone Barrier
No matter if you have a different time zone, Indian AngularJS developers are working 24x7. They can work on your project according to your country's zone.
Expertise of Our Developers
When you outsource your project to the Angular programmers, you get the most updated web application that's inbuilt with the advanced features and functionalities.
Angular Web Apps
Our dedicated Angular developers develop superior and robust websites with interactive UI/UX that provides a user-friendly experience.
Angular Mobile App
Develop a native or hybrid mobile application with our versatile AngularJS mobile app developer. They will provide you with an interactive mobile web application.
Angular Ecommerce Application
With Angular 9, creating fast and secure apps have become simple. Hire our Angular experts, they will develop a competitive e-commerce application for you.
Single Page Application
Angular is a SPA (single page applications) framework. Our Angular coders create faster single page applications with a user-friendly interface.
Plug-in & Module
Do you want to customize your Angular project? Our Angular developers can get it done hassle-free according to your specific requirements.
Angular 9 Development
Want to create an app on Angular 9? At Pixobots, we have a skilled team of Angular 9 Developer to get a killer business application.
AngularJS Game
If you want to build a faster game then hire our Angular coders to get the highest ROI from the addictive Angular games.
CMS & Web Portal
We have the best market Angular developer who can create an interactive CMS or web portal for you that can provide you with the highest profit.
AngularJS Consulting
Our dedicated Angular coders love to provide high impact solutions to you for your Angular project and it's how we begin our project development process.
Covers All Major Industries
At Pixobots, we your can hire Angular developers having industry-specific knowledge. They have a profound experience in developing tailor-made web apps and apps for the various industries in the market.
Healthcare
With the advent of technologies like AR/VR, AI, etc. there is a new revolution in the healthcare sector. Our developers utilize these technologies to give your business a head-shot.
Retail & eCommerce
At Pixobots, our developers provide the best solutions to the retail and eCommerce sector using Angular, that helps them to interact with customers better plus increase your productivity.
Travel and Tourism
Our Angular programmers develop advanced solutions for tour and travel business, through which the customers can do a travel-check which increases the possibility of them appearing in front of their customers.
Banking & Financial Services
PIXOBOTS offers you a full array of digital banking & finance solutions that connects you to your end customers through multiple digital channels.
Education and Elearning
Making eLearning fun is very important in the education sector. Our angular programmers help you by creating solutions that achieve this goal and enhance the learning experience of the students.
Media & Entertainment
Our team of Angular engineers incorporate the latest technologies to develop media and entertainment applications to keep your brand ahead in the cut-throat competition of today's market.
Logistics and Transportation
AngularJS programmers at PIXOBOTS integrate advancements of technology with core aspects of the transportation industry in logistics software solutions that transform their operations.
Publishing Advertising
At Pixobots, we take care of the creative industries like publishing and advertising. They develop amazing applications for them to market their services effectively to the customer.
ISVs & Product Companies
We help the ISVs and product companies to tackle the significant challenges of the market. Our advanced solutions and applications help them to cope up with these challenges and occupy a competitive edge in the market.
Ready To Get Started?
At Pixobots, you'll get the opportunity to work with the top AngularJS developers. Our refined talent acquisition process along with world-class Angular training helps you pair with expert Angular developers perfect fit to your web app development project.
Frequently Asked Questions
Here are some of the frequently asked questions related to hiring Angular developers often asked by our clients:
Why shall we hire Angular JS developers from Pixobots?
Listed below are the benefits that you will get when you trust PIXOBOTS for hiring AngularJS developers –
• Flexible Hiring Models
• Security and IP Protection
• Source Code Authorization
• 24*7 Technical Support
• Transparent Process
• Secure Infrastructure

What are the services your AngularJS developers provide?
• Our developers provide the following services –
• AngularJS Consulting
• AngularJS development
• AngularJS Design
• AngularJS Maintenance and Support
What is the AngularJS development process you follow?
The steps which our developers follow are listed below:
• Requirement Analysis
• Wireframing & Designing
• Development
• Testing
• Deployment
• Support & Maintenance

What are the key differentiators that make your Developers different from others?
• Proven methodologies
• Extendibility
• Wordpress Migration
• Expert developers

What are the Key differentiators that compel us to take this development service from Pixel Crayons?
• At Pixel Crayons, you will enjoy –
• Expert Analysis and Consultation
• Proven Methodologies
• Faster Development Procedure
• Extensible and Scalable apps
Do your WordPress Developers charge on an hourly basis?
Yes, we have an hourly payment process in which we charge our clients according to the no. of hours our developers have worked on your project.
Why should we use AngularJS for the development purpose?
It has an array of advantages, some of them are:
• Easy and Quick Testing
• Two-way data binding capability
• Streamlined MVC pattern
• Modular Framework
• Code Consistency
• Declarative User Interface
Can we hire the AngularJS developer of my choice from Pixobots?
We always share the detailed resume of our AngularJS developers. It includes a summary of their skill sets and the project on which they have worked in their career.
Do you assign a Project Manager to supervise the resources?
Yes, we do provide a Project Management executive once the resources are on-board. The Project Manager acts as a single point of contact for regular communication and query resolution.
How can I communicate & give instructions to my hired AngularJS developer?
When you hire AngularJS developers of Pixobots, then your communication issues are kept at bay. They speak fluent English, and you can communicate with them easily. And you can contact them on Skype, email, phone or whatever that you find convenient.
We use communication channels so that our client's queries can be resolved in the real-time with no ifs and buts. That's why we work on the time zone of your countries to ensure a smooth workflow.

How can I track my project performance?
We appoint a particular project manager for your project, who share your regular project reports to you. The report highlights the complete project status like code, upcoming plans and bug status so that you can track the live performance of your project.
Does your company work on Hourly basis?
Yes! Of course, our developers work on an hourly basis for your project. Your payment will be based on the number of hours they have worked.