Banking & Finance Software
Our custom Banking and Finance software solutions enable peers to establish effective, digitally-enabled financial transactions for Fintech organizations, including services related to banks and credit unions.
A leading banking and financial software development company, we help empower Digital Transformation-driven intelligent banking by enabling instant and secure transactions to deliver omni-channel experiences across products and services. Our continuous innovation enables the banking sector to capitalize on a modernized banking and financial architecture underpinned by disruptive technologies. We are a leader in developing cloud-based FinTech software solutions for achieving operational excellence. Some of the biggest names in the banking & financial services domain rely on our solutions to optimize every customer touchpoint across channels. Our lean software development methodology allows enterprises to quickly build and evolve applications.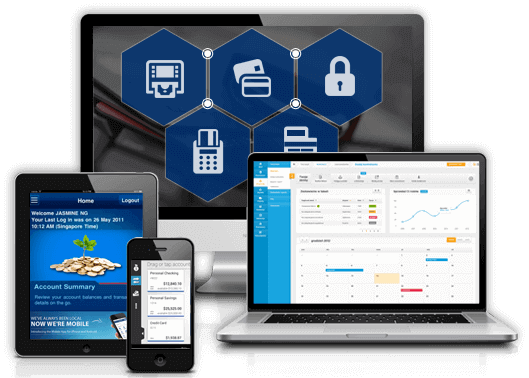 Why Choose Pixobots?
Here's what you get when you choose us as your preferred business partner
Ease of Use
We have experienced UX and UI developers who understand the digital banking technique and deliver the software that is fully responsive be it on mobile, web or a tablet.
Robust Security and Customer Data protection
Banking and Financial software needs to be highly protected against theft as it is one of the most common criminal activities. We use advanced access, data encryption, identity management to ensure invincible security.
Rigid Reliability
We ensure that the software developed by us is operational efficiently all the time for which we do rigorous stress testing throughout the development and implementation process.
Maximum Performance
We strive to develop such Banking and finance software solution for you such that it is high on every performance parameter, be it the networking, backend, database layer or front-office applications.
Regulatory Compliances
We develop such financial solutions that are GDR compliant and meet the strict financial regulations such as Basel II, PCI DSS and SOX. This will help the banking and financial institutions to cope away from the regulators.
Strict NDA & DevOps Enabled
We sign a strict non-disclosure agreement before starting the project to ensure complete data privacy. In addition, you will get your software within stipulated time owing to our DevOps & Agile enabled process.
Banking Finance Software Development Services
Building a secure and user-friendly healthcare infrastructure for an interconnected healthcare environment, from the back office to the physician's office.
Finance Software Consulting
Do you have any doubt how Finance software can transform your business or which technology is suitable for your business? Let our expert clear your doubts with consulting.
Custom Fintech Solutions
Get a full-cycle finance web and mobile application (designing + development + integration + QA + deployment + maintenance & support) completely customized for your specific needs.
Dedicated Development Team
If you want to hire a dedicated development team for web or mobile applications, we can be your reliable partner. We have helped hundreds of agencies in finding the right team for their banking and finance projects.
Our Expertise & Solutions for Banking and Finance
We at PIXOBOTS thrives to accelerate the innovation across the Banking and Finance and provide custom software solutions to financial and Fintech organizations.
Business and Operational Support
With the help of the core banking and financial solutions, businesses can chase their targets more easily.
Internet and M-Banking with Mobile apps
Commercial Payment solutions
Business process management (BPM)
Wealth and asset management (WAM)
CRM for banking and financial institutions
Fintech solutions
We use the latest technology innovations such as Big Data in the financial sector to maintain a prominent role.
Dynamic Payment platforms for B2B
Predictive analytics for Online Banking
Optimization of Financial documentation
Ultra-fast text analytics for trading
Regulated crowd-funding portals
Risk and Compliance
Save your Banking and Finance software solution from being misused, manage risk, and counter the crime against them.
Asset and liability management
Credit risk
Liquidity risk
Operational risk
Regulation management
Fraud detection and prevention
Business Intelligence and Analytics
With the help of Data management and analytics, manage large volumes of data which can optimize revenue in the longer run.
Big data
Master data management
Customer analytics
Real-time decision support
Data visualization and reporting
Forecasting
Banking API development services
Make the maximum use of Banking API development expertise, Access new services and banking experiences for your customers.
Robust authentication of partners' apps
Role-based access control
Active API monitoring and reporting
Fraud and suspicious activity detection
Developer-friendly API sandbox environment
Marketing & Customer Experience
Pitch your marketing and customer experience to the highest level through our banking and financial software.
CRM and CXM
Audience segmentation
Marketing and sales automation
Loyalty program management
Customer portals
Digital advertising
Do you sign NDA?
Yes! When you hire web app developers from us, we sign a strict NDA (Non-Disclosure Agreement) and all other legal documents and forms to protect your data and security.
Since how many years you are into banking web app development?
We are into developing banking web apps for 15+ years and have successfully delivered various projects to our global clients.
Can I see my banking web app while it is in progress?
Absolutely! In fact, we encourage it. We build your banking web app on our development server and provide you with a password and username so that you can log in and monitor the progress of your banking web app.
Once my project is completed, do you provide any after-sales services? If yes, then what are these?
We provide our clients with extended software protection plans. We also fully support any website we design and are always available if you encounter any problems or require new enhancements in your banking web app. PIXOBOTS offers complete website maintenance & support.
Are there any hidden charges that you put on your customers?
No. We discuss your banking web app requirements and then price accordingly. Moreover, once you have placed an order for your website design with us, we work hard so that the outlined price quote is strictly adhered to.
Is it necessary to have a face to face meeting in order to begin my project?
In the majority of cases, a face-to-face meeting is not necessary and most of our banking web apps are generally completed with contact via telephone, email, or Skype only. We place suggested website designs online via, our secure testing server for you to view the work in progress.
Do you guarantee the security and confidentiality of our project?
Yes, we guarantee it as we sign a strict NDA to protect your data. Hence, we ensure complete security and privacy of your project.
In how much time can you provide a banking web app?
The time to create a fully functional website is based on several factors. Customized web app designing work can take around 1-4 weeks depending on the complexity of the project and the number of revisions required.
After that, the development phase requires an additional time of 1-6 weeks depending on the number of pages and functionality required. We follow an agile development process that helps us to deliver your project in a minimum possible time.
Which price model do you follow: dedicated resource or fixed time/price?
Sir, we offer both kinds of price models for our valuable clients and customers like you. Select the dedicated resource model if you want the total control of the website development process and don't want to get into hiring employees.
Also, you can select the fixed time/price model if your requirements are unlikely to change and project duration can be determined.
Do you provide system documentation?
Yes, we provide SRS documentation to the client. This code has comments to make comprehension easy. Moreover, our documentation is quite easy and self-explanatory.
How many development resources do you assign to a project?
Basically, the number of resources employed for a project depends completely on the scale and complexity of the project. For instance, we allocate two developers, one tester and a part-time UI designer for a small project.
Moreover, each project has a technical architect, business analyst, and project manager. Also, we can increase the number of resources depending upon the customer/project requirements.
Will my Banking app have a digital signature integrated?
Yes, we create amazing banking apps that are laden with various proficient features like digital signature and multi-factor authentication.
Which kind of banking app should I prefer: Hybrid or native?
Sir, Hybrid apps, though give the lower performance as compared to native apps, are quite economical and worthy. Hence, you should prefer hybrid apps.
What is a banking application?
It is a software that manages financial data or provides money transfers. Moreover, It eases the process of depositing and transferring money.
How to create an online banking application?
First of all, you will need to understand the main motive of this app. Then, you will need to stick to only necessary features. Finally, either you need to develop it yourself or you should contact a banking app development company like us.