Web Development
We are an award-winning website development company serving digital needs of thousands of businesses all across the globe. With over 16 years of domain expertise, we have helped many startups and enterprises in building world class B2B & B2C web applications for diverse industries. Till now, we have successfully delivered 13800+ projects to our 4200+ clients of with the help of developers.
As the top web development company, we build SEO friendly, mobile responsive websites precisely tailored to your requirement. We provide all round services in designing, developing and maintaining an effective web presence for your business. You can select the most appropriate web development services that are applicable to your needs from the ones mentioned below. In case you are not sure how to make the right choice, get in touch with us and we can help you understand technical aspects for the scope of work and also provide a relevant cost estimate.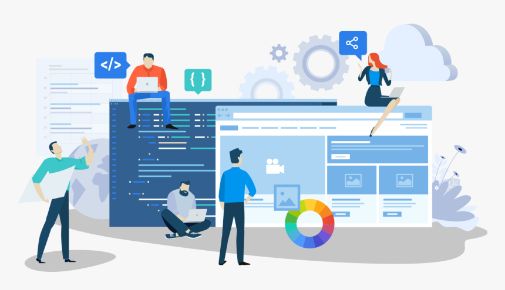 Our Web Development Technology Competence
PHP
PHP: Hypertext Preprocessor (or simply PHP) is a general-purpose programming language originally designed for web development. We provides expert PHP development services, gaining expertise from years of experience in PHP web development and PHP application development.
Read More
ASP.NET
ASP.NET is a server-side web application framework designed for Web development that helps you produce dynamic Web pages, applications and services.
Read More
Our Full-Stack Website Development Services
As one of the best web development companies, we provide a host of web development services for global clients. Take a look at the broad range of web development services we have on offer
Custom Web App Development
Get secure, scalable, high performing and feature-packed web development services catering to different industry verticals at market leading prices.
Prototyping & UX Designing
Our website development company provides precise prototyping of your web development project. We also have a team of skilled UI/UX designers with years of average experience.
Consulting & Business Analysis
If you need any help in choosing the right technology for your next web app project, feel free to contact us as our consultants are ready to help you.
Progressive Web Development
Our web development company provides advanced progressive web app solutions known for high performance, reliability, and visual appeal.
Full Stack Development
There is no need to hire frontend and backend development team separately. We provide full stack development on PHP + Vue.js, .Net + JS, to name a few.
Third Party Integration
Our custom web development team creates APIs, custom data connectors, web services and middleware for secure integration with third-party solutions.
Software Product Development
Our custom web development team has rich expertise in providing custom web solutions that are known for enhanced security and advanced features.
API Development Services
Our years of expertise helps us in creating scalable and intelligent APIs to leverage web solutions seamlessly in an open web world.
Upgradation & Migration
If you want to upgrade your outdated web technology or migrate current web technology to any other platform, you can contact Pixobots.
Our Expertise Spans Diverse Industries
We have delivered highly scalable, secured web app development solutions for clients in diverse industries including retail, healthcare to banking, travel and more. Following are the industries we cater to when it comes to web development
Healthcare
Our web app development team utilizes its technical expertise to build robust web apps conforming to HIPAA guidelines. We have delivered a range of healthcare apps for our clients in this industry vertical.
Retail & eCommerce
We build powerful custom e-commerce development solutions including e-carts & marketplaces, social commerce solutions, e-auction sites, to name a few.
Travel and Tourism
Our agile software solutions for the travel industry improve your tour & travel business' RoI and lessen its operational cost to make it more profitable.
Education and eLearning
Our custom e-learning solutions comprise online training apps, online courses, learning management systems, corporate learning portals, to name a few.
Banking and Finance Solutions
Our banking software development company offers custom banking & financial software solutions for increased operational efficiency, constant cost leadership and agility.
Logistics and Transportation
Our result-driven software development services for logistics & transportation maximize RoI and effectively manage daily workflows.
Media and Entertainment
Our offshore software development company offers social networking development tools, online promotion solutions, media content distribution channels with the latest trends.
Publishing & Advertising
Our advanced publishing and advertising app development solutions help businesses empower their business models to cater to future digital needs.
Automotive
Our innovative web and mobile applications help the automotive sector to be more cost-efficient & sustainable.
Engagement Models
Being one of the top offshore web development companies, we provide flexible engagement models to meet diverse business needs in effective way.
In this model, our Web development company in provides you with dedicated infrastructure and dedicated web app development teams who work exclusively on your web application development project.
Choose this model if you want total control of website development processes and don't want to get into fuss of hiring employees.
NO HIDDEN COSTS
MONTHLY BILLING
PAY ONLY FOR MEASURABLE WORK DONE.
NO SETUP FEES.
Under this low-risk model, our offshore web solutions company works with clients to define expected deliverables and timelines to determine a mutually agreed fixed price.
Choose this model if your web application development requirements are unlikely to alter and web development project duration can be determined.
KNOW WHAT YOU'RE GETTING
NO HIDDEN COSTS
FIXED TIMELINE
MILESTONES BASED BILLING
Ready to Get Started for Custom Website Development?
Affordable pricing, industry-specific website development, latest website development technology integration, scalability is a start at Pixobots! Our web development teams can combine their expertise with the latest trends & technologies to resolve your business challenges & needs. Do you have an idea? We have skilled! Let's discuss a project.
Frequently Asked Questions
Here are some of the frequently asked questions related to website development services often asked by our clients:
Why Should I Choose PIXOBOTS For Web Development Services?
PIXOBOTS is one of the leading web development companies that has become a distinguished name in web app development. Our web development company has been acclaimed by GoodFirms for offering the best digital services to different clients across the globe. It also saves your web development time and cost.
What is the Experience of Your Web Development Team?
The elite team of web app developers have 5+ years of experience in web app development. The dedicated team of 500+ technical experts at PIXOBOTS are skilled in trending technologies which helps them to conquer complex business problems.
How many clients you have served?
The company has served more than 6800+ clients from all over the world. Some of our major clients are Adobe, Puma, HP, VolksWagen, WarnerBros, Morphy Richards and many other prestigious clients.
Why should I choose web development companies?
Developing a secure and scalable web application is the need for an hour, but you need a certain degree of expertise when it comes to getting ahead of the competition. Such expertise is available in a web development company.
Hiring a web app development company can be a great idea when developing a complicated website to attract and convert customers. Website development is a reasonably economical proposition in today's world, especially when we see its outcomes.
Just take a sneak-peak into the benefits of hiring a web development company for your online business.
• Lowers the Development Cost
No doubt, Web development is a costly affair. Of course, there are third party agencies that provide web development services at a reasonable price. If you want your budget not to be volatile and want more on a fixed budget, then a web development company would be the best option for you.
If you live, outsourcing on-shore would be financially correct. You are not required to increase your budget due to currency price difference. For people outside India, it is even better. Western countries such as the US, Australia, have lower currency value than Indian currency. So you only have to pay a reasonable amount to get a unique website.
• Pay Attention to Details
If you have an excellent design with a home page and a nice logo, you are excited about your new online journey. Let me assure you that this will be a tremendous fail.
Paying attention to details is the secret here to shine over the internet and social media platforms. More importantly, the accountability of every detail counts.
A certified web development company will always have a firm mouth to be courteous and offer ideas for any problem. With each stage of the website development, a follow-up with the client is a must. The company should take this measure to ensure that they are moving on the right track.
• Offers Quality Work
Apart from cost-effectiveness, India's web app development company is hard-working and adopts a user-friendly approach to build your website. They understand a wide variety of businesses. Websites are made, keeping in mind the importance of SEO techniques, target audience, coding standards, and accountability.
That's the main reason why web development companies are considered better than others. Experience matters a lot, and it brings quality work with it. They will not disappoint you in terms of quality work and service.
• Provides After Service
Your website must be alive 24/7. Therefore, proper maintenance and improvement are required at regular intervals. Here, updating content is not a big deal. The administrator itself can do this. Significant issues such as downtime, non-functioning buttons or menus, not redirecting links to the correct web page, or any problems related to the user-experience need to be resolved.
Therefore, it is vital to keep the website up and live. Some web development companies provide free maintenance for a few months as their complimentary service.

Which are some good programming languages for custom website development?
Take an in-depth look to understand the main programming languages, mostly used to develop specialized and high authoritative websites. This is true because some websites can be very troublesome and complicated, especially if you are a beginner and do not have that much money to pay to some custom web development companies.
If you are an entrepreneur looking for a suited programming language for your company website. Then here are some of the best programming languages for custom web development.
• PHP
PHP is a preferred server scripting language for web development. The language has been involved with a wide range of popular PHP web frameworks over the years. Moreover, most PHP frameworks are free and offer robust security features.
PHP has many outstanding advantages, such as modules and libraries that ensure dynamic web development. For these reasons, most content management systems and websites are written using PHP.
• JQuery JQuery is extensively used to enhance accountability, presence, and user experience. It is the primary factor that adds slider technology; Pop up ads (programmed concerning time and behaviour), and some other engaging actions on the website. Many custom web development companies are inspired to use the JQuery language.
• Java
Java is one of the most popular programming languages for web development. It is considered the most stable language and is at a peak in the programming industry for ages. It is used for creating enterprise-scale web apps. Moreover, Java is preferred for both web development and mobile app development.
Java works on the principle of write-once; work anywhere. Also, Java has a good reputation for its high cross-platform compatibility. The Java Virtual Machine (JVM) enables it to work on various devices and platforms. Most of the Fortune 500 companies have built their back-end applications using Java.
• Javascript
JavaScript is another most widely used programming language, as it runs anywhere from browsers, servers, mobile devices, cloud to micro-controllers. You can use this language to add interactive elements to your website. Plus, it comes up with a rich interface and is an extremely versatile language.

What are the best practices for custom website development services?
Custom web development offers the business a distinct identity and allows business freedom to create additional features that best serve its customers. Moreover, it blends the business processes into a single place, providing your clients with a complete understanding of your business and the value you provide.
Hiring a custom web development company with proficiency in the latest technologies can take your business to new heights. Also, save you from those organizations that ask for a significant amount but do not offer a dynamic, highly scalable, and functioning site.
< You should consider some of the best practices while developing a custom web app. Here are some of them:
1. Focus on Page Speed Optimization of Website
Visitors may experience frustration when the website loading time is slow. As mobile phones' speed is rapid and visitors expect similar speed on web browsers too. When the user does not have a similar experience on the website, they tend to bounce.
This is because slow speed is a disruptive experience for the user, which you should avoid. To develop custom web development services, you should keep checking the site speed at regular intervals.
Excellent page speed is accomplished by constant effort. While the core influencing factors include better page linking, compact images, avoiding blank pages, site map connectivity. And a fully navigated website will always achieve better page speed.
2. Try to Simplify Websites Navigation
If you do not want your website audience to run away from your site because of the complex navigation, then you should try your best to make it as simple as possible.
A custom web development company always strives to develop a descriptive design, as great user experiences can let visitors stay longer on your website. Therefore, they should avoid broken links and blank pages on websites, and each page should carry relevant text and images.
3. Highlight Key Information with Bullet Points
To better engage customers, it is essential to make use of bullets rather than explaining the product's details. Bullet points offer crisp information. The highlighted features of a certain product may attract more users instead of paragraphed information. The traditional paragraph form is no longer followed.
The custom icon designs with shorter animation can produce more impact on the bullet-point information display. Finally, the bullet point separates the most critical pointers you are trying to make without getting caught in the terminology or details.
4. Make Use of Calls to Action (CTA)
Websites are very crucial for your business. Therefore, it is essential to keep in mind that visitors are not looking for surfing instructions. A simple call to action, clearly marked with an action word, will quickly help website visitors navigate the website.
By keeping track of the locations, local products can be marketed well. And when the outreach of a website elevates, the website starts giving you better returns.
5. Determining Content, Design, and Structure
The main components of any website are content, layout, and structure. Content needs to be valuable, informative, and engaging for search engines. At the same time, it has to engage customers who are genuinely an essential entity for your business.
Therefore, the design should attract the visitor's attention, but not distract from the necessary CTA and conversion goals. As per the experts in custom web development services, "the right font and colour can set your site up and make your pages pop." Pages should be well-structured so that they flow seamlessly from one to the other.
I have little technical knowledge. Will you help me?
Yeah sure! our custom web development company has a team of expert consultants who are dedicated especially to provide free of cost information to our clients and valued customers like you.
What procedure or steps should I follow If I want some changes in the app developed by your team?
In this case, you need to inform the same company representative who was whole sole responsible for taking the requirements for you and handing over the app to you. After this, two possibilities arise:
If you want modifications that demand more than 1 working hour of our team, our custom web development company will prepare a written proposal that will contain the scope, project plan, costs, and terms & conditions. This proposal will be sent to you and once you agree, we will deliver the modified app within the deadline that you decide.
How much money does it require to create a web app?
Actually, the cost of the web development project depends on your requirements. The scale of the project, the technology stacks used, number of web developers in the team dedicated to you, the engagement model and a few other factors come into play while determining the total cost of a web development project.
In how much time can you provide a web app?
The time to create a fully functional website is based on several factors. Customized web designing work can take around 1-4 weeks depending on the complexity of the project and the number of revisions required.
After that, the development phase requires an additional time of 1-6 weeks depending on the number of pages and functionality required. Our custom web development company follows an agile development process that helps us to deliver your project in minimum possible time.
Are your web apps mobile friendly?
Absolutely yes! In this modern era, people use multiple types and sizes of devices such as Tablets, Smartphones, and Desktops for various purposes. So, our web application development company offers responsive website designs that can work on all these devices accordingly.
Will you provide me a full-time dedicated project manager?
Yes, our web application development company provides you a project manager who is dedicated to your project only. Also, this manager keeps you informed about what's going in your project at regular intervals of time. Moreover, you can offer your feedback to this person. He will manage the work according to your feedback.
Can I select web development team who will work for my project or you will just give me the team selected from your side?
It has an array of advantages, some of them are:
We provide you resumes of shortlisted programmers. And you can select some of them according to your preferences and requirements.
Can I have a look on my website while it is in the developmental phase?
Yeah sure! In fact, we encourage this thing. We create your web application on our development server. We provide you the password and username that helps you to log in and monitor the progress of your website.
Would I require a face to face meeting in order to start my project?
In most of the cases, face to face meeting is not necessary. Moreover, most of our web apps are generally completed with contact through telephone, email or skype.
Will my website be search engine friendly?
Yes! Our website design and development is always compliant with search engine guidelines.
Is there any hidden cost in your web app development project?
No! Our web development agency discusses your website requirements and quote you the price in the first place. After that, we adhere to that price and there are no hidden charges for our customers and clients.
Once my website development is completed, do you offer any after-sales services? If yes, then what are these?
Yes, our web development agency offers extended software protection plans to our clients. We at PIXOBOTS offer complete website maintenance and support services in case you encounter any problems or want some enhancements in your web app.
Which price model do you follow: dedicated resource or fixed time / price?
our web development agency offers both kinds of price model for our valuable clients and customers like you. Select the dedicated resource model if you want the total control of the website development process and don't want to get into hiring employees. app.
Also, you can select the fixed time/price model if your requirements are unlikely to change and project duration can be determined.
Is web design the same as web development?
There is definitely a difference. Actually web designers create programs such as Adobe Photoshop in order to create the layout and other visual elements of the website. And web development team uses several software coding languages like HTML, CSS, JavaScript, PHP and other programming languages in order to give functionality to the design.