Hire Front-end Developers
Hire front-end developers who are well-versed in latest front-end technologies (HTML5, CSS3, JavaScript) and frameworks such as Bootstrap. When you extend your team with our remote front-end engineers, you get the latest technology adoption & hassle-free development.
We have best front end developers in our teams who have expertise in working on different niche & complex business problems.
Strict Non Disclosure Agreement
Save Up to 60% Cost on project development
100% bug-free coding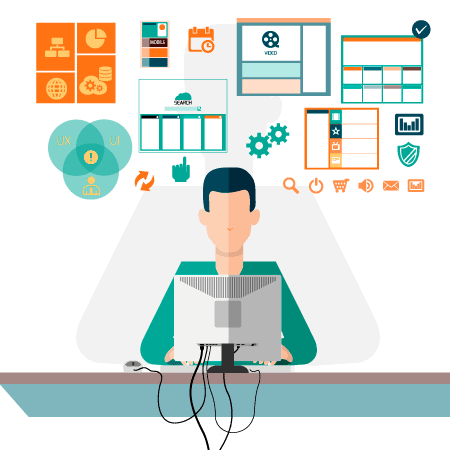 Hire Front-End Technologies
Why Should You Hire Front-end Developers ?
Hiring front-end developers is highly cost-effective as compared to other countries. Apart from this, there are many other benefits that you will enjoy when you hire offshore front-end developers from our country
Skilled Front-end Developers
The front-end developers work on a host of new technologies, tools and frameworks and strive to deliver highly optimized websites and web applications.
High-Quality Development
When you hire Indian front-end developers, you get a skilled and experienced team who strives to deliver the project on time and writes concise codes without any bugs.
No Recruitment & Training Hassles
When you will hire the front-end engineers, you can save your time and money spent on the recruitment and training of these developers.
Maximum Productivity
The front-end coders work on Agile methodology so that they can deliver quality assured, intuitive, interactive and user-friendly web applications.
No-Communication Barrier
Hire front-end developers as all our UI developers have strong and effective communications skills in English language.
Save Operational Cost
You can hire front-end developers, engineers and coders as our hiring models are extremely cost-effective.
Expertise of our front-end developers
PIXOBOTS has a vast pool of competent innovative brains who have the following front-end development expertise
Custom Front-end Development
Hire Front-end developers from PIXOBOTS who develop web applications that offer simple, intuitive, attractive and responsive user-interfaces.
Design Concepts
Our front-end coders make use of web programming languages such as HTML5, CSS and JavaScript along with a Bootstrap framework to develop web applications.
Full Stack Development
Hire full stack web developers from PIXOBOTS who will work on both the front-end and back-end of the web applications using a variety of technologies and frameworks.
PSD to HTML Conversion
Hire front-end engineers from PIXOBOTS who will convert your PSD design to themes for Wordpress, Drupal, Joomla, Magento, Umbraco etc.
SEO best practices
Hire front-end developers who implement the best SEO practices in your web applications by coordinating with the digital marketing team.
Website Maintenance
Our experienced front-end developers, engineers and coders provide you with post-maintenance of the web applications at a pre-decided minimal charge.
Performance Tuning
Hire front-end developers from PIXOBOTS who will optimize your web applications using the front -end optimization services so that it becomes browser friendly and gets easier to load.
Front-end Migration
Our experienced UI developers, engineers and coders are proficient in migrating your web applications to back-end web development.
UI/UX Testing
Hire top front-end developers who will provide testing services for your existing web applications and fix the bugs in no-time.
Industries we cater to
When you hire front-end developers from Pixobots, you get a team which has rich expertise in providing industry-specific web applications. Some of the industries we are cactering to are:
Healthcare
We have a team of front-end developers who have 5+ years of experience in developing web applications related to the healthcare industry. Till now, we have delivered around hundreds of healthcare solutions using front-end technologies.
Retail & eCommerce
Hire front-end developers from PIXOBOTS who develop retail and eCommerce web applications for the retailers, wholesalers and eCommerce firms.
Travel and Tourism
When you hire online front-end developers from Pixobots, you will get experienced coders who are known for developing travel applications which in turn will increase your ROI for the business.
Banking & Financial Services
Hire our front-end developers who have developed a large number of banking & financial applications that take care of the data sensitivity remainder of this domain. We utilize innovations like blockchain and AR/VR to keep your application ahead.
ISVs & Product Companies
We have offered an extended hand to thousands of ISVs and product companies all across the world by providing them skilled and experienced front-end developers and coders.
Education and eLearning
Our front-end developers use the front-end programming languages and other frameworks to develop the elearning web applications. As of now, we have delivered hundreds of web and mobile apps related to the elearning domain.
Logistics and Transportation
We have a team of front-end developers who are a fast learner and grab the core aspects of the transportation and logistics industry easily and hence develop user-friendly logistics solutions for you.
Publishing Advertising
Get your publishing advertising web applications developed by our front-end developers as this industry demands creativity and our dynamic and innovative minds adopt the latest incoming trends to develop it
Automotive
Our highly experienced flutter developers provide high impact solutions to automotive industries that meet their highest satisfactory level and accelerate their growth.
Ready To Get Started?
Avoid mistake of hiring in-house frnt end developers when you get same skills, easy communication, first-time-right assurity at 60% less cost! Not only this, you get latest technology integration in your web app making it out-of-the-box.
Frequently Asked Questions
Have a look at some of the frequent questions asked by our clients
What are the traits you look for hiring your front-end developers?
Though every employer looks for the technical traits, we look for the creative and innovative mind as well because web
• development is such a field which requires coders to think out of box.
• All our coders are computer science graduates and master in Computer Science.
• Strong communication skill so that they can handle clients from abroad easily.
• Industry certified experienced professionals.
• 4+ hours of continuous written technical test followed by system test and F2F interview.
• Our techies are experienced in handling the off-shore projects from US and European countries.
What are the languages your front-end developers are skilled with?
As technology advances, the website development industry will grow exponentially so we hire front-end or UI developers who are highly skilled and have the enthusiasm to scale up their expertise with the ongoing tech needs.
Our UI developers are skilled in the following languages and frameworks:
HTML, CSS, Javascript (JS), Jquery,
Framework - Bootstrap.
Apart from these languages, they are well-versed in Adobe Photoshop and Illustrator.
Scripting Languages – PHP, Ruby, Python
Frameworks – ASP (Active Server Pages), JSP (JavaServer Pages)
DBMS (Database Management Systems) - SQL, MYSQL
Can I hire a team of front-end developers for my project?
First of all, we look at the complexity of your project, and then suggest to you the number of front-developers required for the project completion.
However, if the project has a high level of difficulty, we provide you with a team of front-end developers.
Are your developers proficient in creating SEO friendly web pages for our websites?
Well, this is not the task of any web designer or web developer. Our Digital Marketing team overtakes the responsibility once the website is developed by our web developers.

Do you give any option to your clients to select front end developers of their choice?
Yes, we provide you with the resume of our best web developers. The client can go through their skills and select them according to their website needs and specifications.
How many front end developers can I hire for my project?
It depends upon the level of complexity of your project which will help us decide how many front end developers your particular project requires. However, at the end it's up to you, you can hire as many developers as you want.
Will your front end developers provide us with the facility of
Yes, we provide you with website maintenance on an hourly basis. In case, you require frequent maintenance, then we will suggest you to opt "Ongoing Maintenance plans" as it will be cost-effective for you.
Do your front end developers provide us with the access to see the website progress?
Absolutely! Providing access to the clients help our front-end developers to manage things from your vision thus making the task easy to go.
The website is created on our development server and we provide you with the credentials so that you can log in into it and monitor the progress of the website. Once the site is ready and we get the approval from your end, we make it live and submit the URL to the search engines.
How much does it cost to hire a front-end developer?
As always, the price varies on how qualified and experienced a developer you are hiring. Apart from this, the technicalities and functionalities you want in your website are the other parameters which determine the cost of hiring.
Do your front-end developers sign NDA terms with you?
Yes, we sign NDA (Non-Disclosure Agreement) with our front-end coders before starting the initial discussion.

How do the front-end engineers handle communication and meetings of the clients situated abroad?
Our front-end engineers use communication tools such as Skype, online meeting software such as GoTomeeting to interact with the entire team. Also, our coders work according to the time zone of your country so that it is comfortable for you to coordinate with us.

How do you guarantee the confidentiality and security of our intellectual property?
As per our IP contract, our front-end developers sign this contract before the initiation of the project. It ensures the secrecy of your intellectual property and rights.

Can I have my offshore front-end developers replaced in case the performance is not as per my expectations?
Yes! We will replace the front-end developer if we see any performance or discipline issues on the developer's end.
We strive to employ the best of our front-end engineers for each of the projects and make sure that these replacements never come in the way as it will waste the time and resources spent on the project.