Hire React Native Developers
Hire React native developers having 5+ years of average experience in creating scalabile, higher performing, and secure mobile apps for both iOS & Android platform. Our dedicated react native programmers have created hundreds of successful apps for varied industries.
Strict NDA Signed
50% Cheaper & 2X Faster Development
First Time Right
Easy Team Scale-up & No Contract Lock-ins
Agile/DevOps Process to Save Time & Cost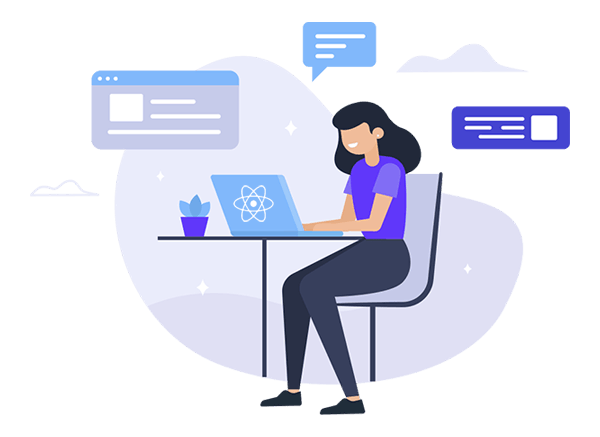 Why Hire React Native Developers
When you hire React Native engineer, you can get expert programming engineers, application architects and web coders who will help your business to achieve the accomplishment.
Cost-suitability
When you hire React Native developers for outsourcing your project, you will have monetary advantages than redistributing it to some different countries. Also, it doesn't require any physical office space.
Proficient and Committed Developers
By outsourcing your projects, you will get a gigantic pool of talented and creative react native coders who show a huge degree of cleaned aptitude and duty towards their work for passing on the deliverables on time.
Dedicated Resources On Demand
Hire React Native developers from PIXOBOTS who are skilled and have deep expertise in developing applications based on React Native technology. Also, our coders are available 24*7 for your assistance.
Learn New Headways
Rent React Native engineers online who are reliably enthused about learning new advancements, tools and techniques, are fast and consistent coders and try to offer better than the best to their clients.
Quality Assurance
Hire React Native developers who will provide you with high-quality IT solutions and other versatile and web applications that include the idea of their endeavour. The developers reliably hold fast to quality.
Easy To Manage
You will get a complete heap of progression in the board organizations. It gets less difficult for you to manage the entire strategy, and at the same time, you can add more undertakings to your work cycle.
Our React Native Developers' Expertise
Our coders have the domain-specific experience to provide optimum programming solutions. Have a look at our React Native Developer's expertise.
React Native App Development
React native is an amazing framework to develop optimum UI cross-platform apps for React Native, iOS, Windows and other platforms. Our coders create reliable and robust apps using this framework.
API Development
Our team of React Native coders works according to the specific needs and requirements of clients to deliver highly scalable, and secure server-side APIs.
React Native App Upgradation
Our React Native programmers upgrade the existing apps with the latest features of React native. The upgraded version of the app will be apt for the latest market demands.
App QA & Testing
We also have app testing professionals who have years of domain expertise in rigorous quality assurance of react native mobile apps and finding bugs and enhancing performance.
App Support & Maintenance
Our team of React Native coders can proficiently maintain your existing apps. This makes your app efficient in satisfying the latest demands of the users.
Full-Stack App Developers
Full-stack developers are a part of our team of professionals who can develop the front-end as well as the back-end of a react native based mobile application.
Covering All Major Industry Vertical
Hire React Native App developers from Pixobots, and get developers who have sound skills in app development and have hands-on experience in developing applications for the following industry verticals.
Healthcare Solutions
At Pixobots, we see mobile applications as a tool that can change the way the market functions. Our React Native developers use a focused approach and innovative designs to develop HealthCare solutions.
Retail and eCommerce
Our team of React Native Developers makes the experience of creating the products seamless and straightforward, and develops the best Retail and eCommerce Solutions using the DevOps approach.
Travel and Tourism
We have industry-best React Native App developers who will help your grow your Travel and Tourism industry with the help of applications developed by them using the Cross-platform development strategy.
Banking and Finance Solution
Our leading React Native Developers create Banking and Finance Solutions with advanced features using the React Native technology that will work well on both the iOS and React Native platforms.
Education and eLearning
Get your education and e-learning applications developed by our React Native developers which can work on multiple mobile OS. This will let your user download the app from both the PlayStore and Apple store, thus increasing your customer base.
Media and Entertainment
Our team of React Native developers incorporates the latest technologies to develop media and entertainment applications to stay ahead of the competition. This application will give your business a broad exposure to the clientele.
Logistics and Transportation
Our React Native engineers use work on transportation and logistics projects, ensuring greater focus and better results for our clients. Get an application created for a Logistics and Transportation solution by hiring React Native developers from us.
Publishing and Advertising
The applications created by our React Native developers help B2B and B2C portals to market services and products quite effectively. Show your ads in the mobile apps with the help of android applications developed by our React Native Developers.
Automotive Industry
When you hire react native developers from Pixobots, you get dedicated engineers who have 5+ years of average experience and have created hundreds of applications for the automotive industry.
Ready To Get Started?
Hire react native developers with 5+ years of average experience and save yourself from the hassles of recruitment, training and infrastructure management. Get talent as per your needs & save up-to 60% of your project cost.
Frequently Asked Questions
Here are some of the frequently asked questions often asked by our clients before hiring react native developers. If you need more information or have any other queries, please feel free to contact us.
Here is what you get when you trust PIXOBOTS for hiring your React Native developers
Why should we hire React Native Developers from Pixobots?
• Costs Scalable to Demand
• Flexible Hiring Models
• Security and IP Protection
• Transparent Cost Model
• Source Code Authorization
What are the expertise of your React Native Developers?
Our developers provide the following services
• React Native Development
• React Native Custom Solutions
• React Native App Upgradation Experts
• React Native App Consultation
• App Maintenance
What is React Native used for?
React native is used by developers along with React to develop a native app for React Native, iOS, Windows, etc. with cross-platform app capabilities.
What is the benefit of hiring remote React Native developers online?
React Native allows the developers to share code between different platforms like React Native or iOS. Even if React Native Developers have to write platform-specific code, the companies will not have to hire separate native app developers for their project.
How is React Native different from React?
Virtually the working principles of React and React Native are identical. React Native does not use Virtual DOM to manipulate DOM.
Can you name a few companies who are using React Native technology?
Facebook, Walmart, Instagram, Wix, etc. are some of the companies that are using React Native.
Why shall we prefer React Native for mobile app development?
If you create mobile apps using React Native platform, you will get several advantages such as it allows quick creation of native packed React Native and iOS applications. Also, it can run along with the complex functionalities securely.
What are the development process your React Native developers follow?
The steps which our developers follow are listed below:
Requirement Analysis
Wireframing & Designing
Development
Testing
Deployment
Support & Maintenance

Can we hire a React Native developer of our choice from your company?
Yes. We provide you with the resume of our React Native developers, and you can choose them according to your requirements.
Then we will agree on the time which can be extended if needed.
Do you assign a Project Manager to supervise the resources?
Yes, we do provide a Project Management executive once the resources are on-board. The Project Manager acts as a single point of contact for regular communication and query resolution.
How can I communicate & give instructions to my hired React Native developer?
When you hire mobile app developers online, communication is not an issue. To enable effective communication with our clients, our coders use communication tools such as Skype, online meeting software such as GoToMeeting or telephone meetings so that our clients can interact with the entire team. Also, our techies work according to the time zone of your country so that it is comfortable for you to coordinate with us.
What if I demand any modifications in my developed application?
The remote react native application development team will help you, depending on the type of modifications you need in the application.
We follow a standard procedure for making any changes in the project. Our React Native developers analyze the changes if they are applicable or not. After this, we seek approval from the client and then release the delivery timeline and cost estimates to our clients. We implement the changes once they are approved.
Do your React Native Developers charge on an hourly basis?
Yes, we do charge on an hourly basis. Under the hourly basis model or the Time & Material model, you are charged only for the number of hours our App developers work on your project.
Do you sign NDA with your developers?
Before the initial discussion, we sign NDA (Non-Disclosure Agreement) with our software developers so that they are bound to it.
Does your company guarantee the confidentiality and security of our (IP) intellectual property?
According to our IP (Intellectual Property) contract, our software developers sign this contract at the beginning of the project to ensure the secrecy of your intellectual property. As per our rules of IP contract, we try to transfer the IP as soon as the clients pay the last invoice of the project.
How can we keep track of the project pace and the ongoing activities?
We keep on sending the regular project status reports weekly. Also, you need to keep a live track of the project milestones, upcoming plans, code and bug status and other software development metrics.
Can I have my offshore React Native developer replaced in case the performance is not as per my expectations?
Yes! We will replace the developer if we see any performance or discipline issues on the developer's end.
We strive to employ the best of our React Native coders for each of the projects and make sure that these replacements never come in the way as it will waste time and resources spent on the project.