Hire Virtual Reality Developers
Hire remote virtual reality developers from PIXOBOTS and get 3D computer simulated visualization environment. Our VR developers have experience in creating apps for all major industries like elearning, travel, healthcare, media, etc.
Strict NDA Signed to ensure complete privacy
Save Upto 60% Cost on development
First Time Right to get correct output in first go
Flexible Engagement (fixed cost, full time or hourly)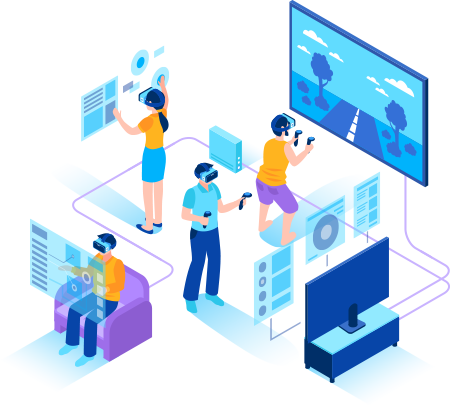 Why Go For Hiring VR App Developers ?
Hiring virtual reality app developers and programmers can help you save your time and cost. You get optimum quality VR developers solutions at highly affordable prices. Here are some of the other benefits
You Save Upto 50%
The outsourced virtual reality developers and programmers work on contract basis. You pay them only when they are handling your project, whereas constantly pay your employee within your company. As per our internal study, companies saves upto 50% when they hire VR developers.
Get Skilled AR Developers
Outsourcing agencies follow strict procedure for recruiting VR app coders & developers. Hence, the VR app programmers-- handling your projects-- would be highly experienced. All VR app programmers in PIXOBOTS have an average 4 years of domain expertise.
Avoid Unnecessary Expenditure
When you hire inhouse VR developers online, you would have to pay them salary on monthly basis even when they have no project to work on. This is an unnecessary expenditure which could cost your company dearly in a long run. You can save this unnecessary expenditure when you hire VR developer.
Stop Wasting Resources
After hiring an inhouse developer, you have to go through a tedious process like written test, personal interviews, a long training procedure, etc. This process consumes a lot of time, money and your precious resource which you could use in other key areas.
Save Infrastructural Cost
While hiring inhouse virtual reality developers, programmers or coders, you would need to provide them with amenities like suitable laptop and other infrastructural amenities. These benefits in addition to one's salary can be very burdensome to you. Hiring offshore programmers can save this cost.
Easy Accessibility
Accessibility is never been an issue while hiring offshore virtual reality app developers, programmers and coders. Your project would be accessible from any part of the world, even from the comfort of your home, as offshore VR developers communicate and work via the internet using various easy communication channels.
Our VR App Development Services
Let's have a quick glance over the VR app development services that you avail by hiring offshore virtual reality developers and programmers.
VR GPS Applications
Our offshore virtual Reality developers build GPS applications which finds locations in a better and much advanced way.
VR Health Applications
Virtual Reality health apps are booming right now and our developers know how to build a customized app as per your needs.
AR Fashion Applications
Hire Virtual Reality developers who can build fashion applications & adept at customized development for small to large businesses.
VR Architectural Applications
If you're in need of an in-house Virtual Reality architectural app deployment, installation, or migration, our experts can help.
VR Event Management Applications
We are there to help you with event management applications development business needs that our developers are adept at building.
VR Hospitality Applications
Businesses with unique hospitality VR app development requirements are satisfactorily fulfilled by our developers.
VR 3D Gaming Applications
Virtual Reality is best known for interactive games and our developers build 3D games that enchant your customers.
VR Travel Applications
When it comes to travel app development solutions, our Virtual Reality developers provide excellent services to clients across the globe.
VR Instructional Diagrams
Hire Virtual Reality programmers who have strong experience in highly secured, robust, much valued and high performance VR apps development.
Covers all Major Industries
Our remote VR coders and programmers hold the experience of years in the various industries to deliver the industry-specific web and app solutions. Let's peek into our expertise in the different niches.
Healthcare Solutions
At Pixobots, our VR developers build advanced healthcare solutions with the help of latest technologies like AR/VR and more.
Retail and eCommerce
Our experienced team of VR developers provide development services that meet margin, cost and efficiently optimize the processes.
Travel and Tourism
Our travel and tourism VR coders have rich expertise in creating secure, scalable and feature-packed travel apps that proffer real time-travelling experience to your customers.
Banking and Finance Solution
The VR developer's team of PIXOBOTS offers you a full array of digital banking & finance solutions that connect you to your end customers through multiple digital channels.
Education and eLearning
Our team of VR programmers and coders build unique and innovative e-learning solutions to enhance the student's learning experience.
Media and Entertainment
Our expert VR programmers deploy various technologies to develop media and entertainment applications with AR/VR features to compete with the market trends.
Automotive
At Pixobots, we provide complete web and mobile app development solutions to the automotive industries. Our advanced solutions foster operational efficiencies and internal processes.
Publishing & Advertising Industry
We develop feature-rich VR based websites and applications for the publishing and advertising industries that foster its growth plus reliability in an efficient manner.
ISVs & Product Companies
We understand the unique requirements of ISVs and product companies and provide advanced solutions to the offshore product that provides a powerful value proposition to clients.
Ready To Get Started?
No matter where you are in the planning process of your VR based web app, our experts are happy to help you. Our expert consultants discuss your plans & challenges, evaluate your existing web or mobile apps or even make some initial recommendations.
Frequently Asked Questions
Here are some questions that are frequently asked by our clients based on virtual reality. If you need more information or have any other questions, feel free to contact us
I am a CTO and would like to handle the VR app development team by my own. Is it possible?
Yes it is possible! You will have a direct access of a VR app development team. You can pick your desired team, assign them tasks as per your requirements as well as discuss the sprint. The team solely work on your project.
Is there a Project Manager to supervise the resources?
Once the resources are on-board, each client is assigned a Project Management executive and is provided free of charge for communication. The project coordinator acts as a single point of contact for regular communication and query resolution.
Will the hired online VR app developer work dedicated only for me?
Definitely! The hired developer will work full-time only for your project, like all other regular employees.
How do I communicate & give instructions to my hired developer?
You can communicate your developers via Skype, Chat or Phone call. You can also share the instructions or task by using Email, Instant Messenger, phone etc. whatever suitable to you.
Will you replace remote VR app engineer if I am not satisfied with the performance?
Yes! We will get replacement of the developer if we see any performance or discipline issue on the developer's end.
Do You Sign NDA (Non-Disclosure Agreement)?
Yes! When you hire virtual reality developers from us, we sign strict NDA (Non-Disclosure Agreement) and all other legal documents and forms to protect your security and data.
Do You Work Hourly Hiring?
Yes! We do work on the Hourly basis. You'll be billed on the basis of number of hours the offered service is utilized. This is known as Time and material model.
What if we need any sort of change in the specific development project post the launch?
You have all the flexibility to send a change request to the development team at any time during the development. We will surely address it as per the priority.
What sort of support do you offer to your customers?
You are sure to receive all the support from the development team at Pixobots. Our support is just not limited to the selection process, but the Virtual Reality app development team ensures to check all that is going as per the project's requirements.