Hire Android App Developers
Hire Android App Developers When you hire Android app developers from us, you get the perfect balance between cost, time & quality. Our Android app programmers work as your extended team and are capable to deliver quality apps meeting your business challenges in minimum possible time.
Get Trust of A Brand
Strict Non Disclosure Agreement
Work with World's Top 2% Developers
5+ Years of Average Experience
50% Cheaper & 2X Faster
Easy Team Scaling
No Contract Lock-ins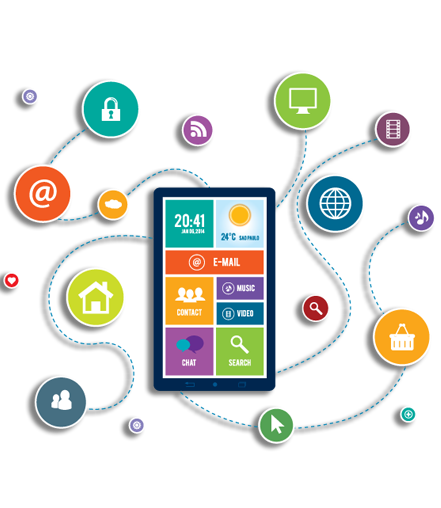 Why Hire Android Developers
Rent an Android developer where you will get a specialized team of software programmers, application developers and web coders who will help your business to sail the boat to the success shores.
Highly Cost Effective
When you hire Android applications developers, it will be much more cost-effective for you than outsourcing to any other countries. Indian Android app developers are 60 to 70% cheaper than other countries with the same skill sets.
Latest Technology Development
Android app developers keep themselves updated with latest technologies, trends, tools and frameworks. Therefore, with Android app developers you get the latest technology development at pocket friendly prices.
Business Specific Developers
When you choose Indian Android app developers, you get a wide option to choose from. You can hire Android programmers that best suit your business specific needs and who can understand your business challenges very well.
No Language Barrier
Almost all Indian Android app developers speak English as English is the official language of India, and India is the second largest English speaking country in Word. Therefore, you won't find any communication issue with Android developers.
No Time-Zone Difference
Android app developers are available 24X7 to work for your project. Therefore you won't face any timezone issue. They can work as per your specific time zone to ensure smooth work flow and communication.
No Recruitment Hassles
When you hire Android application developers, you can save yourself from training and recruitment hassles. Also, you can easily scale up or down the Android app developers' team as per your specific business needs.
Covering All Major Industry Verticals
When you hire Android application developers from us, you get a team which has created hundreds of apps for different industry verticals. Our Android application developers have hands-on experience in developing custom android applications for the following industries.
HealthCare Solutions
Our Android app engineers have experience in developing the mHealth android applications which can revolutionize the relationship between patient and healthcare experts.
Retail and eCommerce
Switch from eCommerce to mCommerce with our Android applications as apps load contents faster than websites do and have enhanced usability. Let our Android app coders develop it for you.
Travel and Tourism
The Android app developers at PIXOBOTS have substantial expertise in developing Travel and Tourism based android applications that will provide you all that your travel app needs.
Banking and Finance Solutions
Let your users download banking and finance Android apps as safety in digital banking & finance solutions has become the most important factor in a customer choosing your app.
Education and Elearning
Hire Android app developer from PIXOBOTS who will help you in adopting the new learning methods such as Education and eLearning solutions. This application mainly abridges the parents' teacher communication.
Media and Entertainment
People spend the most on entertainment & media. Make use of this habit by hiring android programmers from PIXOBOTS & fulfill their thirst. These applications will increase your brand visibility and sales.
Logistics and Transportation
Manage your fleet business appropriately and monitor the location of your vehicle efficiently. Get an Android app developed for Logistics and Transportation solution by hiring Android app developers from us.
Publishing and Advertising
Show your ads in the mobile apps with the help of android applications developed by our Android Developers. This industry demands creativity and our dynamic and creative minds adopt the latest incoming trends to develop it.
ISVs Products
Blur the lines of traditional ISVs with the Android based ISVs developed by our Android app developers. The application will boost your brand recognition and drive customer engagement and loyalty.
Expertise of our Android App Developers
PIXOBOTS has a vast pool of skilled and innovative minds having in-depth domain expertise in all aspect of app development. Our Android app developers have an average 5+ years of experience in creating feature packed software solutions. They have a track record of creating hundreds of successful Android apps.
Custom Android Applications
Our dedicated Android application developers always strive to build personalized apps for Android that are acknowledged for their advanced features, security, scalability and intutive design.
AI Based Apps
Our Android app developers imply their Machine Learning knowledge to develop AI based android applications. They have rich domain expertise deep & machine learning
Android App UX and UI
Hire Android app developers from us to have an intuitive UI for your applications. Our designers and developers add creativity to the solution and enhance user experience.
Android App Consultants
Hire Android application consultants from PIXOBOTS and get free advice on technologies so that you can choose the right app technology stack for a project.
Android App Upgradation
Our Android app engineers provide Android app upgradation services. We also upgrade you app in terms of latest features, new version optimizations and many more.
Android App Migration
You can choose our offshore Android app engineers for migrating your current Android mobile app to any other technology that too at affordable cost.
Frequently Asked Questions
Here are some of the frequently asked questions often asked by our clients when they hire Android developers from us. If you need more information about hiring android programmers or have any other queries, please feel free to contact us.
Why shall I hire Android App developers from Pixobots?
Being a non-techie person, it becomes quite difficult for you to hire the ideal person that can develop the perfect android application for you. But, with PIXOBOTS your worry lines on the forehead become crystal clear. We have a very rigorous recruitment and selection procedure that helps in hiring the appropriate candidate for the particular position.
Having years of experience and expertise, our Android developers can develop phenomenal android applications across all the industry verticals.
What are the services your Android developers provide?
You can avail the followings services from PIXOBOTS in case you hire Android developers from us
Custom Android App Development & Deployment
Third Party Integration and API Customization
Enterprise Android App development
Migration and Porting Android Apps
What does a full-stack Android developer mean?
The term full-stack means Android app developers who are comfortable working with front-end as well as back-end technologies of mobile applications. It means, a full-stack Android app developer can build applications from start to finish. He/She can manage, plan, and build software apps and software products with general know-how. They are responsible for creating the coding that makes an application function properly.
What project management tools do you use?
You can track the productivity of our developers and monitor the daily progress of the project by making use of the project management tools such as JIRA, Asana, Pivotal Tracker etc. Here, you can also assign them with the work, create tasks and monitor all our development progress.
How can I hire Android app developers from your company?
We provide you with the resume of our Android app developers and you can choose them according to your requirements
Then, we will make an agreement on the time period which can be extended if needed.
Do you provide us a Project Manager to supervise the resources?
Based on the experience and seniority of our developers, we appoint one of them as the Project Manager for your particular project. You can contact the project coordinator for regular communication and query resolution.
What step does your Android app developer follow while creating the app?
Here are the steps that our coders follow to develop a mobile app: - Collecting and analyzing the requirements
- Creating the wireframe and designing
- Development
- Testing
- Deployment
- Maintenance and support
How can I interact with my hired Android application coder?
When you hire Android app developers online, communication is not an issue. To enable an effective communication with our clients, our software developers use communication tools such as Skype, online meeting software such as GoTomeeting or telephone meetings so that our clients can interact with the entire team. Also, our techies work according to the time zone of your country so that it is comfortable for you to coordinate with us.
What if I demand for any modifications or alterations in my developed Android application?
The remote mobile application development team will help you, depending on the type of modifications you need in the application.
We follow a standard procedure for making any changes in the project. Our Android App developers analyze the changes if they are applicable or not. After this, we seek approval from the client and then release the delivery timeline and cost estimates to our clients. We implement the changes once they are approved.
Do your Android App Developers charge on an hourly basis?
Yes, we do charge on an hourly basis. You'll be billed on the basis of the number of hours the offered service is utilized. This is known as time and material model.
Do you sign NDA with your developers?
Before the initial discussion, we sign NDA (Non-Disclosure Agreement) with our Android developers so that they are bound to it.
Does your company guarantee the confidentiality and security of our (IP) intellectual property?
According to our IP (Intellectual Property) contract, our Android engineers sign this contract at the beginning of the project to ensure the secrecy of your intellectual property. As per our rules of IP contract, we try to transfer the IP as soon as the clients pay the last invoice of the project.
How can I keep track of the project pace and the ongoing activities?
We keep on sending the regular project status reports on a weekly basis. Also, it is quite essential for you to keep a live track of the project milestones, upcoming plans, code and bug status and other software development metrics.
Can I have my offshore Android App developer replaced in case the performance is not as per my expectations?
Yes! We will replace our developer if we see any performance or discipline issues on the developer's end.
After all, it is a matter of integrity and pride for PIXOBOTS as well. We strive to employ the best of our Android developers for each of the projects and make sure that these replacements never come in the way as it will waste the time and resources spent on the project.