Hire Ionic App Developers
Save your time & money with our ionic app developers' team for your hybrid app project. Our ionic programmers use Ionic open-source SDK to provide you robust, secure & scalable cross-platform mobile apps.
Strict NDA Signed
100% Money Back Guarantee
Easy & fast communication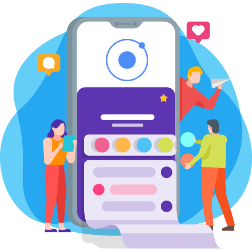 Why Hire Ionic Developers ?
Rent Ionic developers, and you will be benefited in numerous ways. They are working with a specialized team of project managers, developers and testers that takes your business on the right path and fosters your business growth.
Highly Cost-Effective
Working with Indian Ionic developers always benefits you with cost-effective investment. They charge 60-70 per cent less than in other countries and provide you with better results.
Business Specific Developers
Indian Ionic developers have developed hundreds of applications in their career for various industries. They have sound knowledge in developing industry-specific applications.
Latest Technology
Hire Ionic coders, and you are assured of getting the most updated business app that gives your business a competitive edge in the market and drives high sales.
No language Barrier
All Indian Ionic coders are comfortable in speaking English, and it's the second-largest speaking country in the world. Therefore, you can easily communicate with them.
No Time Zone Issues
Indian Ionic developers work 24x7. They can work according to your convenient time so that a smooth and productive workflow can be followed.
Timely Delivery
Hire Ionic developer and get your project delivered on time. They are very particular about the deadlines and always deliver the project on time.
Our Ionic App Developers' Expertise
Our remote Ionic app coders and engineers have extensive experience to write codes for our clientele spread across the globe. We offer various services which you can get by hiring our dedicated Ionic Developers
Hybrid App Coders
Working with the experienced remote team of professionals who leverages the Ionic framework to develop robust applications. We incorporate advanced features to make your app out-of-the-box.
AI Based Apps
Our Ionic app developers are proficient in integrating your applications with advanced technologies like machine learning, artificial intelligence, deep learning and chatbots.
App Upgradation
Our highly experienced Ionic coders and engineers will upgrade the existing version of your app to the latest one. This updated app will help you in attaining a higher consumer base.
App Maintenance Experts
Our Ionic app coders are well-experienced in the maintenance of Ionic apps. We provide you with complete maintenance & support of your mobile app.
AR/VR Based Apps
Along with the knowledge of ionic technology, our developers follow Augmented Reality and Virtual Reality technologies to develop something robust that can empower your business growth.
Application Testing
Our developers ensure flawless service that's why every app is delivered with comprehensive testing so that the end product excludes all the bugs and performs well.
Feasible Solutions
We have employed a team of Ionic expert coders who holds at least 5+ years of experience in this platform. They provide end-to-end solutions that offer clients the utmost satisfaction.
Ionic Widget
Our Ionic coders build the most simple software that supports all the platforms. They have an accurate plan for your project to develop software widgets with Ionic.
Covers all Major Industries
Not every industry is the same in the market. Industries such as healthcare, eCommerce, banking and more are significant industries of the market. If you are struggling to get your business-specific application, then you are in the right place. Our Ionic developers hold profound experience in developing industry-specific applications.
Healthcare Solutions
Hire Indian Ionic developers who can develop healthcare applications for you that will aid you in the decision making, improve efficiency and cut overhead costs. It also facilitates the management and records the physician-reported data.
Retail and eCommerce
Rent our remote Ionic coders to create your retail and eCommerce website. They use the widget to build tools that will let store owners put control storefronts plus enjoy a richer eCommerce business experience.
Travel and Tourism
Get your travel website or portal developed by our ionic engineers. Our applications develop special applications to aid tourists to find the destinations and locate the best restaurants and other hangout places.
Banking and Finance Solution
Hire our Ionic developers to build a secure plus user-friendly application that can address customer needs and ensure the financial institution's growth with gratifying outputs.
Education and eLearning
Hire Ionic developers who can develop advanced e-learning solutions to enhance the learning experience of the students and provide an interactive experience.
Media and Entertainment
Media and entertainment industries are buzzing all around today. Our Ionic developers are leveraging this benefit and creativity to develop quality applications.
Logistics and Transportation
Our Ionic app programmers develop a robust application that offers you the easy management of the fleet business & efficient monitoring of your vehicle's location.
Publishing and Advertising
Work with Ionic engineers and get out of the box solutions for your publishing and advertising business. They empower your business models to render better solutions that increase your customer base.
Automotive Industry
We are working with the experienced Ionic developers who can provide you with the high-impact app solutions to accelerate your automotive business growth.
Ready To Get Started?
At Pixobots, you'll get the opportunity to work with the top Ionic Developers. Our refined talent acquisition process along with world-class training helps you pair with expert developers perfect fit to your project.
Frequently Asked Questions
Here are some questions that are frequently asked by our clients. If you need more information or have any other Ionic app development questions, feel free to contact us.
Why should we hire Ionic Developers from Pixobots?
Here is what you get when you trust PIXOBOTS for hiring your Ionic developers
• Costs Scalable to Demand
• Flexible Hiring Models
• Security and IP Protection
• Transparent Cost Model
• Source Code Authorization
What is the expertise that your Ionic developers own?
• Hands-on expertise they pose
• Hybrid App development
• AI App development
• App Upgradation
• App Maintenance
• AR/VR development
• Blockchain development
What are the most prominent advantages of building applications using the Ionic framework?
The Ionic framework builds hybrid applications using web technologies. It means web developers can quickly develop mobile apps too. Also, because it uses JavaScript, almost the same codebase can be used to create both iOS and Android applications.
Development cost is less compared to native iOS and Android applications.
How do you deploy an Ionic project onto a device?
To run your app, you have to enable USB Debugging and Developer Mode on your Android device, then run ionic Cordova and run the android device from the command line.
Why should we consider Ionic for development purposes?
Because it is safe, secure and faster than other programming languages, also, it uses simple web technologies such as HTML, CSS and JavaScript for developing Hybrid Mobile Applications.
Can I get an AR app developed by hiring Ionic developers?
Yes, Ionic developers can utilize their specialization for creating innovative and interactive applications by using the technology of Augmented reality.
What is the development process your Ionic developers follow?
The steps which our developers follow are listed below:
• Requirement Analysis
• Wireframing & Designing
• Development
• Testing
• Deployment
• Support & Maintenance
Can we hire an Ionic developer of our choice from your company?
Yes, we always share an updated CV of our Ionic developers with the summary of their skill sets and experience, so that you can choose the right developers team for your project.
Do you assign a Project Manager to supervise the resources?
Yes, we assign a Project Management executive once the development process begins.He / She acts as a single point of contact to know the project progress and on-going activities.
How can I communicate & give instructions to my hired Ionic developer?
When you hire Ionic developers online, you can expect an easy communication process. For effective communication with our clients, we use communication tools like Skype, online meeting software such as GoToMeeting and more that you find convenient.