nopCommerce Development
nopCommerce is an open source eCommercesoftware based on ASP.NET MVC with Entity Framework having Code First approach.
nopCommerce is a thriving platform for the modern age businesses looking to create feature-rich online storefronts that are equally flexible, secure, scalable and robust.
This open source solution allows the enterprises to create cost effective and completely customizable storefronts which can exactly match up with their business needs.
We have offered best standard NopCommerce Stores, equipped with all the desirable features and functions. We also provide our clients simple manageability, flexibility, and control over GUI, content and practical sides for their Online stores.
Why go for nopCommerce Development?
Highly stable platform for ECommerce development – Built using ASP.Net 4.5 / MVC 4 with MS SQL back-end.
nopCommerce offers support to multiple websites/stores using a single admin section.
nopCommerce is well-integrated with Google Analytics.
Easy shipping rate and order calculations, integration with popular shipping carriers.
In-Built SEO Support and Features.
Allows creating quick launch micro stores for business promotions.
100% Open Source and Highly Cost Effective.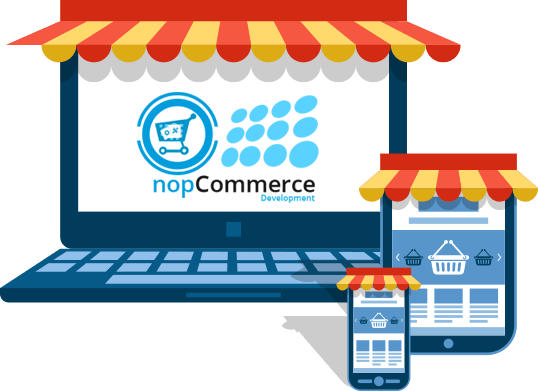 Installation & Configuration
Specialized in configuring and setting up ECommerce store running on this platform. Expertise in installing NopCommerce online store with all the latest functionalities.
nopCommerce Data Migration
We help you to migrate your important customers, products and order details from your older non nopCommerce stores to your new nopCommerce based shop.
Azure Services
We offer development, integration and deployment services for nopCommerce platform on Microsoft Azure web services in the way it is meant to be used.
Theme Customization
We customize theme of your store as per your business needs. We breathe NopComerce and no requirements are hard for us to solve it.
Support and Maintenance
Our resources are always ready to hear from you anytime. We maintain your store and offer technical support.
Stock / Inventory Integration
We can help with implementing the synchronization of your catalogue's stock details into your nopCommerce so you can offer right details to your customers when they are ordering.
Accounting / Billing Integration
We have automated and seamless experience to your customers by creating customer billing account , creating packing / delivery instructions, packing lists, crating and sending Invoices, etc on the nopCommerce events.
Frequently Asked Questions
Here are some questions related to NopCommerce web development that are frequently asked by our clients. If you need more information or have any any other question related to NopCommerce development, feel free to contact us.
How Long Does It Take To Create A NopCommerce Website?
The time to create a fully functional website is based on many factors. Customized web designing work can take anywhere from 1 to 4 weeks, depending on the complexity of the project and the number of revisions you need. After that development phase needs an additional 1 to 6 weeks, depending on the number of pages and functionality required. We follow agile development process that help us to deliver your project in minimum possible time.
Which price model you follow for NopCommerce development: dedicated resource or fixed time/price?
We offer both the options to our customers. Choose dedicated resource model if you want total control of development processes and don't want to get into fuss of hiring employees. Choose fixed time/price model if your requirements are unlikely to alter and project duration can be determined.
Are your NopCommerce sites mobile-friendly?
Yes. Every site we have built since our inception has been mobile-friendly. With responsive design methods, we ensure that the websites works well on a wide variety of screen sizes, from tablets and smartphones to small & large desktop monitors.
Will I be having a full time dedicated project manager?
Yes, we will provide you a full time dedicated project manager, who will work for your project dedicatedly. Our project manager updates you about your ongoing project on regular basis. You can provide him your valuable feedback.
Can I select my preferred NopCommerce developer?
Yes, you can select the developers as per your preferences and requirements. We provide you resumes of selected programmers. Then, you can select few of them which will work dedicatedly on your project.
Can I see my NopCommerce website while it's in progress?
Absolutely! In fact, we encourage it. We build your web app on our development server, and provide you with a password and username so that you can log in and monitor the progress of your website.
Will I need to have face-to-face meeting to begin the project?
In the majority of cases face-to-face meeting is not necessary and most of our web apps are generally completed with contact via telephone, email, or Skype only. We place suggested website designs online via, our secure testing server for you to view the work in progress.
Will my website be Search Engine Friendly?
We create all our websites keeping in mind search engines. The website design & development is compliant with search engine guidelines.
Is there any hidden cost?
No. We discuss with you your website requirements and then price accordingly and once you have placed an order for your website design with us. We work hard so that the outlined price quote is strictly adhered to.
Once my eCommerce website design is completed, what after-sales service do you offer?
We provide our clients extended software protection plans. We also fully support any website we design and are always available if you encounter any problems or require new enhancements in your web app. PIXOBOTS offers complete website maintenance & support.