Hire Flutter Developers
Want to enhance productivity, cut costs on inhouse recruitment with complete peace of mind? Hire flutter developers who work as your extended team and are capable of building scalable & interactive apps as per your business requirements.
Strict NDA signed to ensure complete privacy
50% Cheaper & 2X Faster
Easy team scaleup and no contract lockins
First time right to get correct output in the first go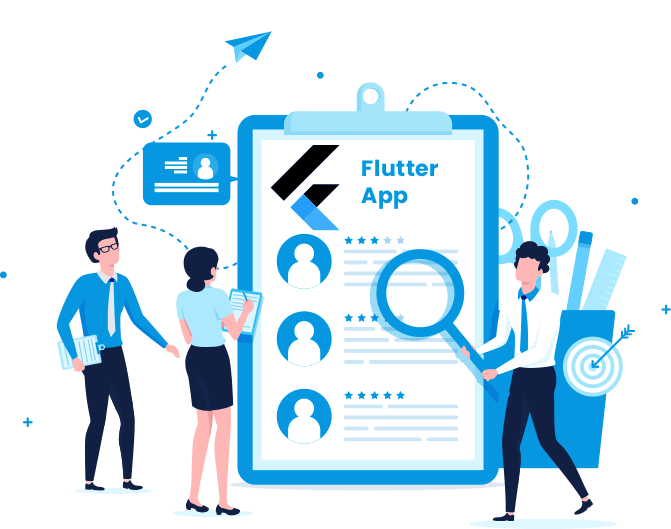 Why Hire Flutter Developers ?
Working with Flutter developers comes with amazing benefits. They ensure an optimum level of efficiency in the whole development process.
Highly Cost-Effective
When you hire Flutter developers, then it lies in your budget. Even Indian developers charge 60 to 70 percent less than the other countries with the same expertise and skill set.
Skilled Flutter Developers
When you hire Flutter developers, then you are assured to get the quality results. They are highly qualified & experienced and render the best plus gratifying results.
Latest Technology Development
Indian Flutter coders are tech enthusiasts and always keep them updated with all the latest trends prevailing in the market so that you can have a most advanced business application in the market.
No language Barrier
Maximum Indian Flutter developers can speak English well. Even India is the second-largest English speaking country across the world. So, with them, you will not have any difficulties in communication.
No Time Zone Hindrance
When you work with Indian Flutter developers, then your time zone issues are kept at bay. They are always ready to work in the time zone of your country and work with utmost efficiency.
Industry-Specific Developers
Flutter developers have worked for the various business verticals. They can work on your niche well. With them, you are guaranteed to get the best plus enhanced results.
Explore Our Flutter Developer's Expertise
At Pixobots, Flutter developers build feature-rich scalable apps that provide engaging native experience to users. They provide diverse app solutions with the revolutionary cross-platform development framework.
Cross-platform App Development
Our Flutter developer develops customized and scalable mobile applications with a single code base and gets your app stand out in the market for both iOS and Android platforms.
Dedicated Flutter Team
Hire dedicated Flutter coders's team which is expert in developing robust applications for both iOS and Android for global clients in various industries.
Flutter Enterprise Apps
Our offshore Flutter app developers create mobile applications for large-scale enterprises which are reliable, scalable & secure.
Platform Migration To Flutter
Our remote Flutter developers can aid you to re-engineer and migrate your current apps to Flutter for a better & enhanced experience.
Widget Rich Apps
Our developers very much understand the importance of different widget availability and develop apps that contain creative widgets.
Server-Side Mobile APIs
Our productive app developer always uses server-side APIs to develop applications, and it's even crucial for an excellent service.
Flutter Consulting
Customization is the secret key to success today; our coders are capable enough to cater to your project-specific needs and provide its personalized solution.
Fluid User Interface
Our Flutter developers leverage its advanced features and offer a layered architecture for customization and deliver eloquent & fluid UI designs.
Support & Maintenance
Along with our advanced expertise, we work with you in the long run and render a full box of support and maintenance services for your existing and new apps both.
Covers all Major Industries
Our Flutter developers have worked in variegated industries in their career and hold the potential to develop an industry-specific software solution. Let's have a quick glance over the industries we are serving.
Healthcare Solutions
We are serving the top healthcare industries and providing the Flutter app that includes out of the features such as listing, booking, e-prescription and more.
Retail and eCommerce
By keeping the top competitors in mind, we utilize the full potential of Flutter and develop high-performance applications with advanced and user-friendly features.
Travel and Tourism
Our travel industry specialist developers cater to your requirements well and deliver the robust application with advanced features like a travel journal, travel planning and more.
Banking and Finance Solution
Our flutter developers always strive hard to meet the requirements of banking industries. They develop quality mobile applications that guarantee the utmost security to both the clients and their users.
Education and eLearning
We serve the education industries well with our skilled app developers. They develop a feature-rich application that provides students with the best learning experience
Media and Entertainment
Our Flutter developer delivers the best media and entertainment application solutions with the best features that provide users with the best experience.
Logistics and Transportation
At Pixobots, our developer understands the needs of the logistics and transportation industries and delivers a robust application accordingly with user-friendly navigation.
Publishing and Advertising
We provide the best application solutions that cater to your advertising agency's requirements thoroughly and develop feature-rich applications.
Automotive Industry
Our highly experienced flutter developers provide high impact solutions to automotive industries that meet their highest satisfactory level and accelerate their growth.
Ready To Get Started?
Hire flutter developers with 5+ years of average experience and save yourself from the hassles of recruitment, training and infrastructure management. Get talent as per your needs & save up-to 60% of your project cost.
Frequently Asked Questions
These are a few questions that our clients frequently ask. Let's have a look at these once if you have any query or contact us directly via mail.
What is Flutter App Development? How is it beneficial?
Google has developed a cross-platform application framework for theAndroid, iOS, and Google Fuchsia (Google's new platform). With it, developers are no longer required to write separate code. They write a single code for both android and iOS platforms.
Following are its benefits:
• Same UI & business logic in all platforms
• Reduces code development time
• Increased time-to-market speed
• Similar to the native app performance
• Own rendering engine
• Holds potential ability to go beyond mobile
Why hire Flutter developers of Pixobots?
• At Pixobots, we have employed the best team of Flutter developers of the market with 5+years of experience. With us, you are assured of getting the result-oriented solutions that will
foster your business growth. We provide a future-ready and robust application that reflects the highest levels of quality and effectiveness.
What is the process of hiring Flutter developers?
You can hire PIXOBOTS Flutter developers easily by following a simple process. You have to send your requirements over mail or fill the contact form given in our site. After this, you have to choose the engagement model for development and hire our best developers.
Do you sign NDA (Non-Disclosure Agreement)?
Yes, of course, we start the development process after signing the NDA with our clients to secure their confidentialities.
Do you offer other dedicated resources to hire?
When you sign up your project development deal with us, we provide resources through which you can monitor your project progress. These hired resources work for you remotely and share your project updates.
Including this, we have other dedicated resources to offer our clients. It includes Angular, Node, React, Vue.js and other technologies.
Do you have a service level agreement in place?
Yes, we do have a service level of agreement for our esteemed clients.
What is the future of mobile app development with Flutter?
Companies having a limited budget and time can go with Flutter. It's an open-source plus well-structured framework from Google with Unicode and other advanced features.
By considering its benefits, we can easily see a bright future of mobile app development.
Where is PIXOBOTS based in? What is team-strength?
PIXOBOTS is based and the USA. We have employed the team of 50+ skilled developers with 5+ years of experience and having expertise in Flutter, React, IoT, Blockchain, Angular, Magneto and more.
What is your pricing model for app development?
We provide industry-specific pricing models that fit the client's requirement best.
Listed below are our flexible hiring models:
• Dedicated Hiring
• On an Hourly Basis
• Fixed Hiring

How much does it cost to hire a Flutter Developer?
Many factors determine your Flutter app development costs. We suggest you discuss your app idea with our experts and get the right cost estimate.
How can I hire developers online matching my requirements?
After analyzing your project requirement, we assign the best Flutter developer to work on your project. It's all done under our ownership, so you don't have to be stressed over the project security. If you want, you can take our developer's interview and share your project requirements.
In case our expertise doesn't deliver the desired output, or if you want to scale up the developer's size with the diverse skill-set, then we will help out in it too. We prioritize the client's satisfaction first and deliver the best results.
How do you make a Flutter app?
PIXOBOTS has a pool of experienced Flutter developers, and they follow an agile methodology and manage the application simply. It's even as easy as you run on code on Flutter:
• Install Google Flutter and Dart
• Add Flutter to Android studio
• Search the sample 'Hello World' code in a Flutter
• Build your 'Hello World' app using Flutter
• Run it!
What are the services your Flutter developer offers?
• Flutter Web development
• Enterprise Web app Development
• Custom Module Development
• Flutter App Maintenance

How can we interact with your team of Flutter developers?
We offer flexible communication to our esteemed clients; our Flutter developers use online communication tools like Skype and other online communication software such as GoToMeeting or telephone meetings to interact with our team.
Also, our developers work according to your country's time zone to enable a convenient communication mode.