Hire iOS App Developers
Hire iOS app developers from Pixobots, and get the perfect balance between cost, time & quality. Our iOS app programmers work as your extended team and are capable of delivering quality iOS mobile applications that can meet your business challenges in minimum possible time.
Strict Non-Disclosure Agreement
Work with World's Top 2% Developers
50% Cheaper & 2X Faster
Easy Team Scaling
No Contract Lock-ins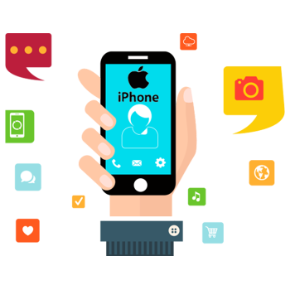 Why choose iOS developers ?
Hire iOS developers and get optimum quality iOS mobile applications at a highly affordable price. Have a look at some of the benefits:
Skilled iOS Developers
The iOS developers are always keen on learning new things and keep themselves abreast with latest tools and frameworks.
Increase Productivity
The iOS developers work on DevOps and Agile approach so that they can deliver iOS applications with advanced features on time.
High Quality Development
Hire iOS developers who are appreciated and acknowledged across the globe for their concise code quality and strong commitment to deliver the project within the stipulated time frame.
No Communication Barrier
When you hire remote iOS developers, you will not face any communication gap because all our iOS developers are proficient in English language
No Recruitment & Training Hassles
Hire iOS app engineers, where you can spare yourself from recruitment and training hassles of these developers. The Indian firms handle every one of these assignments for you.
Saves Operation Cost
Hire iOS app developers as they are highly cost-effective. Here you will get profoundly experienced and talented iOS coders at reasonable costs that will decrease your expense.
Expertise of Our iOS Developers
At Pixobots, we have employed the best team of iOS developers who holds expertise in developing iOS applications with advanced features. Let's have a quick glance over it once:
Customized App Developers
Our dedicated iPhone app programmers always strive to build custom iOS applications for iPhones that are acknowledged for their excellent features.
Industry Specific App Developers
Hire full stack iOS mobile app programmers who have rich expertise in developing apps based on different industries like finance, travel, education, media, banking etc.
iOS App UI/UX Designers
We have a team of highly experienced iOS UI/UX developers who develop customer-centric and interactive design for your iOS applications.
Full-stack iOS Developers
At Pixobots, you can hire a full stack iOS app developer that can work on both the front-end and back-end of your iOS applications.
iOS App Consultants
Hire iOS app consultants from PIXOBOTS who will suggest you the right technology stack and idea required for your iPhone app development project.
Experts for App Upgradation
We have a team of skilled iOS mobile app engineers who provide iOS app upgradation and integration services as per your business needs and specifications.
Developers for App Migration
Hire our offshore iOS app developers, who will migrate your current mobile app to iOS platforms without any data loss. The developers keep a back-up prior to the migration.
Experts for QA & Testing
From the initial stage of your project, we put our expert quality analysts in the loop so that you can make sure your iOS app runs across all browsers & screens.
Experts for Support & Maintenance
Hire offshore iOS app programmers from PIXOBOTS who help you in complete support and maintenance of your present iPhone apps and keep it up-to-date.
Covers all Major Industries
Our iOS developers have worked across many industries in their entire career and hold the potential to develop an industry-specific software solution.
Healthcare Solutions
Hire iOS app developers from PIXOBOTS who have years of experience and expertise in developing iOS applications based on the healthcare industry. As of now, we have delivered hundreds of healthcare solutions that work on multiple OS.
Retail and eCommerce
We have a team of iOS app developers who understands that the retail and eCommerce industry demands high safety and security in their application and hence deliver the best iOS applications with advanced features.
Travel and Tourism
The iOS app developers at PIXOBOTS have notable expertise in developing Travel and Tourism based iOS applications that will give you all that your travel app needs.
Banking and Finance Solution
Let your users download and enjoy the Banking and finance iOS applications as digital banking & finance solutions always require high safety and confidentiality of its customers.
Education and eLearning
Hire iOS app developer from PIXOBOTS who develops eLearning solutions for the iPhone users and helps them adapt new eLearning methods.
Media and Entertainment
People spend the most on entertainment & media. Make use of this habit by hiring iOS app programmers from PIXOBOTS and satisfy their needs by developing entertainment solutions.
Logistics and Transportation
Hire iOS app programmers from PIXOBOTS and get an iOS app for Logistics and Transportation solution. The app will help you manage the fleet business & monitor the location of your vehicle efficiently.
ISVs Products
Hire iOS app programmers from PIXOBOTS who will develop iOS based ISVs products that in turn will drive customer engagement and loyalty.
Automotive
Our highly experienced flutter developers provide high impact solutions to automotive industries that meet their highest satisfactory level and accelerate their growth.
Ready To Get Started?
Planning an iPhone mobile app that resolves your business challenges and at the same time rule the iOS app store? Let's help you! With thousands of successful projects in our kitty, we are helping our worldwide clients in their iOS app development challenges & needs.
Frequently Asked Questions
Have a look at some of the frequently asked questions by our clients
Why shall we hire iOS developers from Pixobots?
Here is what you get when you trust PIXOBOTS for hiring iOS developers
• Rapid Access to Talent Pool
• Costs Scalable to Demand
• Flexible Hiring Models
• Security and IP Protection
• Transparent Cost Model
• Source Code Authorization
What are the services your iOS developers provide?
• Our developers provide the following services
• iOS App Design and Development
• Custom iOS development
• Framework - Bootstrap.
• iPhone App Technology Expertise
• iOS M-commerce Application
• iPhone Game Development
• iPhone App Testing • Migration and Maintenance services

What does a full-stack remote iPhone app developer mean?
The term full-stack means iPhone mobile app developers who are comfortable working with front-end as well as back-end technologies.
What is the development process that your iOS developers follow?
The steps which our developers follow are listed below:
• Requirement Analysis
• Wireframing & Designing
• Development
• Testing
• Deployment
• Support & Maintenance
Are you developers proficient enough to integrate latest technologies with the iOS app?
If your project requires analytical capabilities, then the iOS coders can integrate your application with latest technologies like IOT, DTA Analytics, cloud computing etc.
Can we hire an iOS app developer of our choice from Pixobots?
Yes, you can hire an iOS developer of your choice by having a look at the CV of some of our best iOS developers. You can hire them on Time and Material Model as well.
Will you provide us a Project Manager to supervise the resources?
Yes, we do provide a Project Management executive once the resources are on-board. The Project Manager acts as a single point of contact for regular communication and query resolution.
How can I communicate with my hired iphone / iOS developer?
You can get in touch with our hired iOS developer through communication tools such as Skype, online meeting software such as GoTomeeting.

Do your iOS Developers charge on hourly basis?
Yes, our developers work on the Time and Material model where they are paid for the number of hours they have worked.
Do you sign NDA with your iOS developers?
Yes, we do sign NDA with our iOS developers before starting the project so that they are bound to it.
Does PIXOBOTS guarantee the confidentiality and security of our intellectual property?
Yes, all our iOS developers sign the IP contract before the project starts so as to ensure the confidentiality and security of the IP.

How can I keep an eye on project ongoing activities?
We send regular project status reports to our clients on a weekly and monthly basis.
Can I have my offshore iOS App developer replaced in case the performance is not as per my expectations?
Yes, we will replace our iOS developer in case they are not satisfied with their performance level.