Appointment Scheduling / Booking Software
A simple, functional & powerful appointment scheduling software having advanced features to grow and manage your business through one simple, clean calendar system. Now, book more clients, get paid on-time, and automate & organize with the right tools on your utility belt.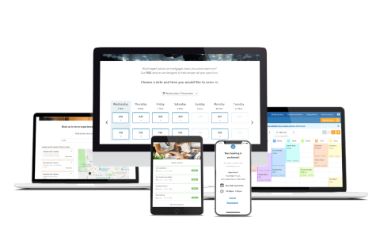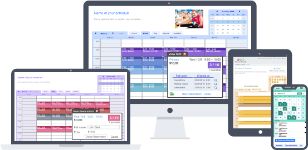 Appointment Booking Software
Our appointment booking software solution is packed with advanced features and tools to make your scheduling hassles easy.
It has become one of the most popular appointment scheduling software due to its advanced features and ease of use.
Accept online bookings
Your own mobile-optimised booking website or integration with your existing site. Also, accept bookings directly via Google.
Notifications via SMS/Email
Reminders to staff and clients whenever appointments are booked, cancelled or rescheduled. With push notifications on your mobile for new booking information via the admin app.
Security is Paramount
Secure communication and all data backed up daily. We even have a dedicated security officer keeping the team on its toes!
Integration & API
Google My Business native integration, Wordpress and other CMS systems or use our API to build your own custom integrations.
Custom features
Features like; Coupons & gift cards, sale of products, membership, classes, promotion system, HIPAA, SOAP, Intake forms, Packages, POS, Deposits, Related resources, Tickets and more.
Room to Grow
Unlimited services, unlimited service providers, unlimited clients and unlimited system users at no extra cost!
Business Analytics
Monitor your bookings, site visits, most popular service providers and services on any device, at any time, or from within the mobile admin app.
Products & Promotions
Are bookings slow? Offer discounts and even reward clients for spreading out the promotion. Further, increase revenues by selling products upon booking.
Book anywhere
Clients can schedule appointments via the web through multiple channels; your booking website, your own website, Booking page
Reminders
Email & SMS reminders & booking confirmation notifications to help your clients to show up on time.
Frequently Asked Questions
Have a look at some of the FAQs (frequently asked questions) often asked by our clients.
What type of online scheduling software do you develop?
We develop web-based software that enables you to accept online appointments and manage your internally booked appointments plus resources.
Which businesses can use online scheduling software?
Any service-based business can use online scheduling software such as optometrists, hair stylists, osteopaths, estheticians, physiotherapists, and more. It enables you to change your service into a product that can be sold in the market. It becomes an e-store for services where customers can check service availabilities and book an appointment to place an order for service.
What is Request Mode?
Request Mode enables you to accept or deny appointments before anyone schedules it.
Can you develop online scheduling software if I have many employees, each accepts appointments?
Definitely! Yes, we mainly design software to deal with various types of appointment scenarios. In this situation, each employee will be authorized to book appointments and be given a different user name & password.
How can I ensure my business data security?
Data safety and security are essential to us. We host our service on a dedicated server with twenty-four hours of surveillance. Furthermore, all your data is encoded with certified SSL encryption plus backed-up daily.
Can I cancel anytime?
You can delete your account anytime you require or want, and that too without paying any penalties.
Which are the countries you are serving?
We serve almost all the countries, including the USA, Canada, UK and more. If you want to know more, please visit and contact us page.
Can you add a customer schedule feature who calls us to book an appointment?
No problem! We fulfill most of the same functions as traditional scheduling software and give the benefit of booking online appointments.
Do I need a website to leverage the online scheduling service?
Not at all! We provide each account provided with a Customer Portal that serves as a mini-website for your business. You can make it personalized and add information such as a logo, service list, business description, address, and map. And If you have an existing website already, you can add a "Book Now!" button on it.
What type of technology or computer is required to set up an online scheduling service software?
We develop simple software that will work with most computers and support web browsers such as Firefox, Internet Explorer and more.