Travel Application Development
Helping travel and tourism industry maximize their opportunities and sustain the long-term competitiveness with our tailor-made travel application that will streamline your business, increase client engagement and perk up your marketing strategies.
Our travel application development team understands the terms of the industry and helps you to cater to the growing demand from users, partners, and investors.
Planning to outsource a travel application development company or want to hire a travel & tourism application developer team? Get in touch to request a free quote
Build on-demand travel apps with custom front-end UI, advanced admin dashboards, powerful analytics panels that are robust and scalable.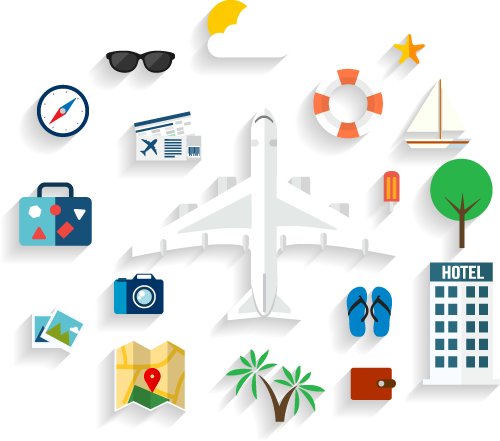 Travel and Tourism Solutions
We shape the travel and tourism solution in the wake of technology so that you can make a fair decision about your next travel destination
eBooking system
Our solution includes a cloud based eBooking and Ticketing system where the customer will get a tool to manage and automate the workflow and access its features and functionalities.
Travel ERP solutions
To have better fleet management, budgeting, and invoicing, we provide you with custom travel solutions that will produce accurate insights for efficient forecasting.
Custom Fleet Management
To track your fleet efficiently, monitor travel time, know the average speed of the vehicle and fuel cost, we provide you with custom fleet management solutions.
Features
We provide travel application development services in the same way you want your app to be.
Travel Planning
The customized app comes with flight reminders, and dine-in suggestions based on your location.
App Development
We offer mobile application development services for various mobile platforms like iOS, android and Windows phone to have responsive and user-friendly applications
ERP for Tourism
ERP solutions act as a most valuable tool for the airline and travel companies, we offer ERP systems that will cut the operational cost and increase the company's efficiency.
Ticket and hotel booking
We provide you with the robust, hack-proof web and mobile based platform solutions for easy ticket and hotel booking solutions.
Vehicle booking solutions
The application comes with an in-built feature that will enable your client to book on-demand vehicles anytime, anywhere.
CRM solutions
We offer the best CRM solutions to our partnered hotels and travel agencies which increases the rate of engagement.
Why Choose Pixobots?
Here's what you get when you choose us as your preferred business partner
World Class Services
Out techies are keen in learning new technologies and so provide advanced travel software solutions based on latest technologies and tools.
Innovative Minds
We utilize the emerging and existing technologies to innovate business models and leave the clients with a competitive edge.
Dynamic Team offering Fastest Delivery
Our teams of developers are so proactive that they understand the concept from the client's view and implement the full-proof strategy to deliver quality results.
Proficient Communication Skills
We utilize the emerging and existing technologies to innovate business models and leave the clients with a competitive edge.
Years of Experience and Expertise
The developers have years of expertise in creating innovative travel and hospitality solutions and thus maintain cross-browser and cross-platform product usability.
Processes & Tools
We follow agile and scrum methodology and use proven tools to ensure optimum execution so that we can deliver impeccable service for the first time.
Do you sign NDA?
Here are some questions that are frequently asked by our clients. If you need more information or have any any other question, feel free to contact us.
Do you sign NDA?
Yes! When you hire travel web app developers from us, we sign a strict NDA (Non-Disclosure Agreement) and all other legal documents and forms to protect your data and security.
Since how many years you are into travel web app development?
We are into developing travel web apps for 16+ years and have successfully delivered various projects to our clients spread across the world.
Can I see my travel web app while it is in progress?
Yes! In fact, we encourage it. We build your travel web app on our development server and provide you with a password and username so that you can log in as well as monitor the progress of your travel web app.
Once my project is completed, do you provide any after-sales services? If yes, then what are these?
We provide our clients with extended software protection plans. We also fully support any website we design and are always available if you encounter any problems or require new enhancements in your web app. PIXOBOTS offers complete website maintenance & support.
Are there any hidden charges that you put on your customers?
No. We discuss with you your travel web app requirements and then price accordingly. Moreover, once you have placed an order for your website design with us, we work hard so that the outlined price quote is strictly adhered to.
Is it necessary to have a face to face meeting in order to begin my project?
In the majority of cases, a face-to-face meeting is not necessary and most of our travel web apps are generally completed with contact via telephone, email, or skype only. We place suggested website designs online via our secure testing server for you to have a look at the work in progress.
Do you guarantee the security and confidentiality of our project?
Yes, we guarantee it as we sign a strict NDA to secure your data. Hence, we ensure complete security and privacy of your project.
In how much time can you provide a travel web app?
The time to create a fully functional website is based on several factors. Customized web designing work can take around 1-4 weeks depending on the complexity of the project and the number of revisions required.
After that, the development phase requires an additional time of 1-6 weeks depending on the number of pages and functionality required. We follow an agile development process that helps us to deliver your project in a minimum possible time.
Which price model do you follow: dedicated resource or fixed time / price?
Sir, we offer both kinds of price models for our valuable clients and customers like you. Select the dedicated resource model if you want the total control of the website development process and don't want to get into hiring employees.
Also, you can select the fixed time/price model if your requirements are unlikely to change and project duration can be determined.
Do you build only native travel apps?
No, our app developers are also proficient in hybrid/cross-platform app development. We will listen to all your requirements and will also suggest to you the platform and kind of app development process that will be best suitable for you.